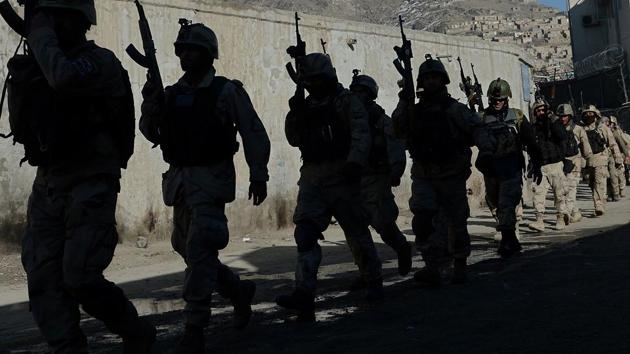 Seven Indian engineers working for power plant abducted in Afghanistan
Afghan police said seven Indian engineers were travelling to a government-run power station in a minibus when unknown gunmen abducted them and their local driver.
Jayanth Jacob and Rajesh Ahuja, Hindustan Times, New Delhi | By
HT Correspondent
UPDATED ON MAY 06, 2018 11:18 PM IST
Seven Indian engineers and an Afghan national working for a power plant project in northern Afghanistan's Baghlan were kidnapped by a group of armed men on Sunday, officials said.
The group was travelling in a largely Taliban-controlled area when the eight people were abducted from their vehicle, Baghlan police spokesperson Zabihullah Shuja said.
External affairs ministry spokesperson Raveesh Kumar confirmed the incident. "We are aware of the abduction of Indian nationals from Baghlan province in Afghanistan. We are in contact with Afghan authorities and further details are being ascertained," he said.
The Indian nationals are employees of KEC International Limited, an infrastructure company that recently bagged a Rs 226-crore contract in the war-torn country as a sub-contractor of Da Afghanistan Breshna Sherkat (DABS), which operates power generating stations. DABS is a Limited Liability Company with all its equity shares owned by the Afghan government.
KEC International Limited's website says it is the flagship company of the RPG Group and is a global infrastructure engineering, procurement and construction major. Harsh Goenka, the chairman of RPG Enterprises, tweeted shortly after the news of the abduction broke: "Request @SushmaSwaraj and Ministry of External Affairs to help rescue 7 of our managers from the kidnapping in Afghanistan."
Baghlan governor Abdul Hai Nemati told Tolo TV that the Taliban had kidnapped the group, but there was no immediate claim of responsibility. Sunday's incident took place at 8.30am in Bagh-e-Shamal village of the provincial capital Pul-e-Khomre, where the Indian company owns a utility, said an official.
Kidnapping of locals and foreigners is common in Afghanistan, where large parts are controlled by militant.
A government official with knowledge of the matter said more than 150 Indian engineers and technical experts are currently working across Afghanistan on large infrastructure projects. "We are seized of the matter, and are in touch with the authorities. We are working out ways to ensure the release of our nationals," he said on the condition of anonymity.
It was not immediately known who was responsible for the kidnapping or whether a ransom had been sought for the Indian nationals' release, the official said. Afghan militants have in the past kidnapped foreign nationals either for ransom or for negotiating the release of terrorists captured by Afghan and US forces.
A security official who did not wish to be named said Indians working on infrastructure projects in Afghanistan have been advised to take precaution and use different routes and travel times to make it difficult for anyone to monitor their activities.
They have also been asked to avoid non-essential travel outside urban areas and use security escorts whenever they travel outside major cities there, the official added.
Close