Supreme Court shows concern over Taj Mahal changing colour
Updated on May 01, 2018 11:38 PM IST
Supreme Court tells Centre and UP to consider hiring experts to restore Taj Mahal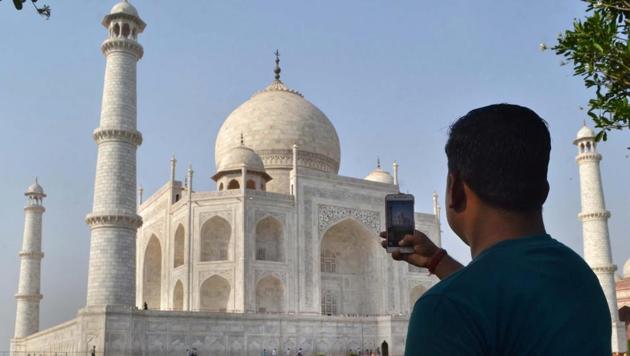 Concerned over the Taj Mahal in Agra changing colour, the Supreme Court on Tuesday asked the Centre and the Uttar Pradesh government to consider hiring experts from outside to restore the pristine glory of the Mughal-era monument.
A bench of justices MB Lokur and Deepak Gupta saw photographs of the monument placed before it by advocate MC Mehta and remarked: "It (colour of the marble) was first becoming yellow. Now it seems to be green and black."
Mehta had way back in 1984 filed his petition drawing the court's attention to the deteriorating of the Taj Mahal. Since then the court has been monitoring developments in the area to protect the historic monument built by Mughal emperor Shah Jahan in the memory of his wife Mumtaz Mahal in 1631. The mausoleum is a UNESCO World Heritage Site.
"It appears that you do not have the expertise or you have but do not want to utilize it or you do not care about it (Taj). Every state dignitary visiting the country is made to visit Taj. Either it stays or goes. You have to decide it. There may be a time that there will be no judicial will to deal with this," the bench told two central government officers who were present during the hearing. Additional solicitor general (ASG) Tushar Mehta was representing Uttar Pradesh, while ASG AS Nadkarni was there for the Centre.
The court asked the law officers when they last visited the Taj. Both replied it was a decade ago. At this, the court suggested they go to Agra.
"You all appear to be helpless. Money should not be the consideration. We might order you to hire experts from within India or abroad. We need to save it (Taj)," the bench told the law officers, giving them a week's time to come back with their response. The court fixed May 9 as the date for the next hearing.
In his fresh application, Mehta alleged that due to water and air pollution, an insect had started feeding on the boundary walls of Taj Mahal. He showed the pictures to highlight the pollution in the Yamuna river flowing near the monument. According to him, the drains around the site are clogged and industries continue to operation in violation of the top court's 1996 verdict ordering a closure. Mehta also claimed the cameras within the boundary are also not working.
Personalise your news feed. Follow trending topics