Surat civic squad attacked for impounding stray cow
The Surat civic body officials had to spend an hour in confinement inside their vehicle due to the violent mob.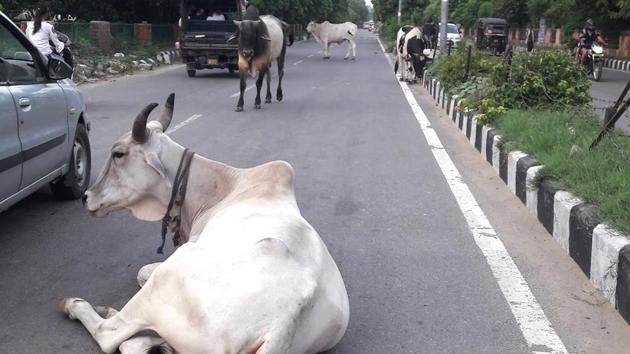 Published on Aug 10, 2018 04:34 PM IST
Press Trust of India, Surat |
Press Trust of India
A team of Surat Municipal Corporation (SMC) in Gujarat had to stay put in a vehicle for over an hour when it was allegedly attacked by a mob for impounding a stray cow in the city, police said on Friday.
The incident took place in Amroli area of Surat on Monday, but a police complaint in this regard was lodged by an SMC official on Thursday.
According to the complaint given by SMC sanitary sub inspector Harshad Kerode, after the civic body was informed about a cow running amok, he and his team reached Vatsalaya residency in Amroli area and impounded the animal.
But soon, over a 50-member group of Rabari community, led by Uka Rabari, reached the spot and started assaulting the SMC team for impounding their cow, police said quoting the complaint.
"SMC officials belonging to the Cattle Nuisance Control Department had to take shelter in their vehicle. However, the mob gheraoed the vehicle and some of them even climbed onto it," it said.
They had to spend an hour in confinement inside their vehicle due to the violent mob. The Rabari community members even abused a couple of Dalit employees, who were part of the team which impounded the cow.
It was only when police reached the spot that the SMC officials were allowed to go.
Market Superintendent of SMC, Dr Prafful Mehta said the incidents of attack on civic employees trying to impound stray cattle have gone up.
"We have demanded from the state government that State Reserve Police (SRP) teams should be given to the SMC squad similar to what they have done in Ahmedabad Municipal Corporation (AMC). SRP personnel can accompany our teams on such calls, so that attacks can be avoided in the future," Mehta said.
Recently, the state government has stationed two SRP companies with AMC authorities to help them carry out operations like anti-encroachment drive and anti-stray cattle drives.
Amroli police inspector G A Patel said that yesterday they have registered a case of assault, attack on government officials while on duty and under SC/ST (Prevention of Atrocities) Act, has been registered in this connection.
"No person has been arrested in this connection so far," Patel added. +
Close Story