The Prime Minister was virtually addressing a gathering, Utkarsh Samaroh, in Gujarat's Bharuch to mark the 100 percent saturation of four key state government schemes in the district which will help provide timely financial assistance to those in need.
Written by Kanishka Singharia | Edited by Swati Bhasin
Ahmedabad: Congress leader Rahul Gandhi on Tuesday accused Prime Minister Narendra Modi of creating "two Indias" -- one of a select few billionaires and the other for the common people

Congress leader Rahul Gandhi, who expressed confidence of his party's win in the state during the next Assembly election, said it was only in Gujarat where permission was required to protest.

A total of 27 assembly seats are reserved for tribals in Gujarat and in the last round of elections in 2017, the Congress had won 15 while the BJP got nine seats.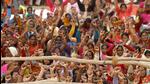 Mevani arrived in Gujarat's Ahmedabad Tuesday evening to a resounding welcome from his supporters.

Written by Manjiri Sachin Chitre | Edited by Chandrashekar Srinivasan