Tamil Nadu: Who's residence is it anyway? Jayalalithaa's Poes Garden lies unoccupied
Jayalalithaa's Veda Nilayam at 81, Poes Garden in Chennai, has been the epicentre of Tamil Nadu's politics for decades.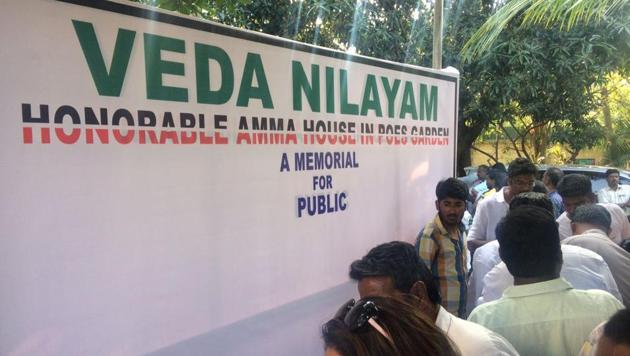 Updated on Jun 25, 2017 05:57 PM IST
The strikingly simple yet elegant brown invitation perhaps bears testimony to J Jaya-lalithaa's taste for both in her personal style. Now faded, the card announces Jaya-lalithaa's request that you attend her 'gruhapravesam'. The year was 1972 and the invite was for the house warming ceremony of Vedha Nilayam, Jayalalithaa's 'new' residence at Poes Garden. How do you know that the earth has shifted in 40 years since that invitation was first sent out? The card gives two landmarks to identify the house — Stella Maris College and Railway Service Commission office. It is unlikely that even Jayalalithaa would have imagined back then that her Poes Garden residence would become a major political landmark. Or that it would lie unoccupied (save for a few employees) and heirless as it does now.
Veda Nilayam at 81, Poes Garden in Chennai, has been the epicentre of Tamil Nadu's politics for decades. "After she became the Chief Minister in 1991, a government residence was allotted to her. But Jayalalithaa chose to make Poes Garden her official residence. Even before she became CM, political leaders would visit her there — like Ramadoss and Vaiko from Tamil Nadu, and several national leaders like Pramod Ma-hajan and Jaswant Singh," says R Muthukumar, writer and political commentator. A posh neighbourhood, Poes Garden, which gets its name after an obscure 19th century merchant or a resident civilian named Poe, is also known for its other popular resident, Rajinikanth.
It was in 1967 that Jayalalithaa and her mother, actor Sandhya, bought the plot at Poes Garden, where they lovingly built a bungalow. Old timers particularly recall how Jayalalithaa was keen to have a library at the residence. "It was called Veda Nilayam. My mother's name was Veda. She changed it to Sandhya after joining movies. It was centrally located at Poes Garden from where beach, theatre, airport, railway station and Mount Road were easily accessible. Despite being centrally located, it was a calm place. There was no traffic noise, no blaring sounds of buses and lorries. It was like living at Ooty or Kodaikanal," Jayalalithaa wrote in a Tamil magazine in 1970s.
But before the construction of the house was over, Sandhya passed away, bequeathing her shares in Natyakala Niketan to Jayalalithaa. Poes Garden and several other prop-erties were bought by Natya Kala Niketan — a property to promote dance-related activities in which Sandhya and Jayalalithaa were major shareholders. While VK Sasikala, Jayalalithaa's friend who later became the party's general secretary, and her relatives continued to use Poes Garden after Jayalalithaa's death last December, her relatives Deepa Jayakumar and Deepak Jayakumar have begun to claim their right over the property recently. Deepa and Deepak are the children of Jayalalithaa's brother Jayakumar who passed away in 1990s. Since its construction, the Jayakumars were living at Poes Garden, but left it in 1978 to live at T Nagar. Deepa has always maintained that their relationship with Jayalaithaa athai turned sour after "strangers began frequenting Poes Garden". Deepak maintains that there has been no change in the will left by his grandmother Sandhya.
Read more | 'Angry ghost', robbery, murder, suspicious deaths and unwell guards add layers to Jayalalithaa mystery
"On November 1, 1971, my grandmother [Sandhya] had written a will bequeathing all the properties bought in the name of Natya Kala Niketan, including Poes Garden resi-dence to my aunt Jayalalithaa. There has been no change in it since then. We are sure my aunt has no will. If there had been one, it should have been out by now" says Deepak Jayakumar, Jayalalithaa's nephew, to Tamil magazine Vikatan.
Lawyers feel that if Jayalalithaa had died intestate, her immediate relatives would be the natural heirs of all her properties. "In this case, Deepak and his sister Deepa Jaya-kumar become the natural heirs. But if Jayalalithaa had left a will, then the will holds good," says M Vetriselvan, a practising lawyer in Madras High Court.
But since Jayalalithaa's death in December 2016, the question about Poes Garden remains most mysterious. Sasikala too continued to stay at the Veda Nilayam and just like Jayalalithaa met party office bearers, cadres and leaders from other political parties there. Since her arrest in the Disproportionate Assets case last February, Sasikala's relatives are said to be in charge of the house — they handle the day-to-day affairs though they don't stay there.
In the months since their aunt's death, until June 11, despite stating that they were natural heirs of Jayalalithaa's properties, neither Deepa nor Deepak took any explicit step towards claiming their right. On June 11, came an ugly showdown between the siblings. Forty-two-year-old Deepa has been dressing strikingly like Jayalalithaa in the months after her aunt died. The siblings never seem to have enjoyed a cordial relationship. Even when Jayalalithaa was in hospital, Deepa claimed she was denied permission to visit her aunt while Deepak made no such complaints. Unlike his sister, Deepak seemed to have enjoyed a cordial relationship with Sasikala, whom he continues to call as athai (aunt), and her estranged husband Natarajan. After Sasikala went to jail, Deepak however raised a ruckus saying he would listen to Sasikala but not her relatives.
Deepa, at a press conference, on the morning of June 11, says she received a call from Deepak to visit Poes Garden in order to "attend a puja". But when she went to Poes Garden, Deepa claims she was denied entry. "It was locked from inside and they refused to open. When I managed to go inside, Deepak tried to restrict my movement inside the house. People at Poes Garden were shocked and Rajamma [an employee] kept asking me why I was there." Deepa also spoke of "suspicious activity" inside the house and demanded enquiry. "Whoever is staying there is trespassing and they have to face law" she said at a press conference.
Deepak has a different version, quoted by Vikatan. "I have never been denied entry into Poes Garden and I wanted Deepa to have some kind of bond with Poes Garden. But she came with Raja [an office bearer in Deepa's organisation]. We paid floral tributes to aunt's portrait there and even cooked food. But things took a bad turn when Deepa tried to remove photos and belongings of Sasikala. I told her we should remove it only in the presence of Sasikala athai [aunt]'s relatives but Deepa wouldn't listen. At this point, the private security personnel intervened and I had to ask Deepa, her husband Madhavan and Raja to leave. I think that upset Deepa."
Read more | Months after demise, Jayalalithaa's vehicles stay grounded, many at Poes Garden
Deepak says he is currently 'maintaining' the Poes Garden residence. He believes that he and his sister are natural heirs of Jayalalithaa and is in no mood to give it up. Deepak says every property in Jayalalithaa's name belongs to him and Deepa. According to an election affidavit filed by Jayalalithaa in April 2015, she owns property worth Rs 117.73 crore. "This is clear and nobody can create any trouble for us. Nei-ther Sasikala athai nor Natarajan uncle will allow anyone [of their relatives] to create trouble for us. I have also made it clear to Sasikala that any of her relatives trying to appropriate Poes Garden would have to face the consequences. In fact, the family should hand over whatever properties of Jayalalithaa they are controlling now to us," he told the Tamil magazine.
Deepak first came to limelight in December 2016 when he, along with Sasikala, performed Jayalalithaa's last rites. Despite being loyal to Sasikala, Deepak maintained a low profile and left many guessing when he first made a public appearance. He maintains he is always loyal to Sasikala athai but has also made it clear he is in no mood to humour her large number of relatives.
There is no love lost between Deepa and Sasikala though. On June 11, Deepa accused Sasikala of conspiring to "kill" Jayalalithaa for money. Under the circumstances, Deepa feels it is best to resort to legal measures to claim her right. "I am already doing something. I will divulge the details at the right moment," she says at the press conference.
Deepa also said on June 11 that she has sought an appointment with Prime Minister Narendra Modi to sort the issues out. Sources close to Deepa hope to meet the PM soon, though no appointment has been given yet.
On June 11, Deepa also alleged that there was a threat to her and her husband's life since she was staking claim to the property.
What threatens to put a spoke to the siblings' plans is the suggestion to turn Poes Gar-den into Jayalalithaa's memorial. The idea was first floated by AIADMK leader O Paneerselvam soon after he rebelled against Sasikala. Several AIADMK leaders cutting across different camps now share the idea. "It is only a befitting tribute to Amma that we convert her residence into a memorial. Everyone knows Amma had a special bond with Poes Garden. Everyone, including members of Sasikala's family, should agree and cooperate to this," says a senior AIADMK leader.
Read more | Jayalalithaa was pushed down at Poes Garden before hospitalisation: Pandian
Vetriselvan says whatever these noble desires may rise from, it is not legally binding on the family to convert the home into a memorial. "The government can issue a G.O.to acquire the land but have to compensate the legal heirs. The heirs can go to court if they feel the government has been unfair to them."
Here too the siblings disagree. While Deepak says he wouldn't mind giving up his claim on Poes Garden if it were to be converted into memorial, Deepa remains tight-lipped about it.
Writer Muthukumar perhaps puts it best when he talks of the fall of Poes garden from being a political epicentre to being a mere disputed property. "We never know if Poes Garden will regain that glory ever again."
But gaining power over 81, Poes Garden, remains an ambition for nearly everyone who wants power over Tamil Nadu.
(Published in arrangement with GRIST Media)
Close Story