Tech-savvy CJI Chandrachud plays mentor to fellow judges in Supreme Court
Published on Jan 12, 2023 03:57 PM IST
CJI Dhananjaya Y Chandrachud continued to help his colleagues with the latest technological advancements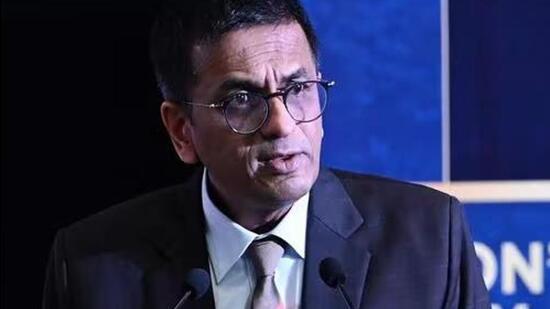 Chief Justice of India (CJI) Dhananjaya Y Chandrachud who is laudably piloting a digital revolution in the Supreme Court is also a mentor to judges in teaching them how to use emerging technology.
He is also helping them access case files on their devices and past judgments online.
On Thursday, justice MR Shah, sitting on a Constitution bench headed by CJI, acknowledged the same.
"He is my mentor," pointing to justice Chandrachud.
"He forced me to use technology and taught me to be technologically advanced," he said.
Justice Shah admitted that one has to change with the times.
"Unless you change with the times, you cannot progress. One cannot be static", he said.
CJI Chandrachud was prompt in crediting justice Shah.
"He was open to learning technology. All my colleagues have now started using technology", the CJI said referring to justices Ajay Rastogi, Surya Kant, Vikram Nath, and Hima Kohli who were seen digitally accessing documents filed in Court on their devices.
Also Read: CJI DY Chandrachud's reply after advocate cites wife's birthday to defer case hearing
The light-hearted conversation came as a welcome break to a legally engaging debate over the power tussle between Delhi and Centre on control over services.
At one point during the arguments, CJI suggested if all judges could together use their devices to access the 2018 Constitution bench decision where the Court held that the Lieutenant Governor is to act on the aid and advice of Delhi Council of Ministers on matters within the legislative power of the Delhi assembly.
Solicitor general Tushar Mehta, who has admitted on numerous occasions in the past about not being technologically savvy, remarked, "We must admit that it is because of you (CJI) we are using this."
It was CJI Chandrachud who had insisted that the hearing of the Delhi-Centre case should be "paperless" making the bench hearing the matter go green in saving loads of documents, generally the norm during hearing of Constitution bench matters.
CJI quipped, "Covid has brought us to this." to which justice Shah commented, "In every bad thing, one has to see the good thing."
Senior advocate Abhishek Manu Singhvi who was appearing for Delhi government in the matter, also joined the conversation.
He said, "Worse nightmares have so many positives."
Mehta told the Court that now even lawyers do not have to physically hold conferences to brief senior advocates.
"Covid has changed the way of life. Counsels prefer to have conference virtually", he said.
Since taking over as 50th CJI, Justice Chandrachud has been taking steps to achieve the goals of digitising Court records, making court functioning paperless, and live streaming of Court proceedings.
Recently, he had even initiated e-SCR project by which nearly 34,000 Supreme Court judgments were digitally accessible free of cost on Supreme Court website.