Union minister Ananth Kumar dies at 59, Karnataka declares 3-day mourning
Updated on Nov 12, 2018 06:10 PM IST
Union minister Ananth Kumar, 59, passed away in the wee hours on Monday, his office confirmed. He was undergoing treatment for cancer at a hospital in Bengaluru.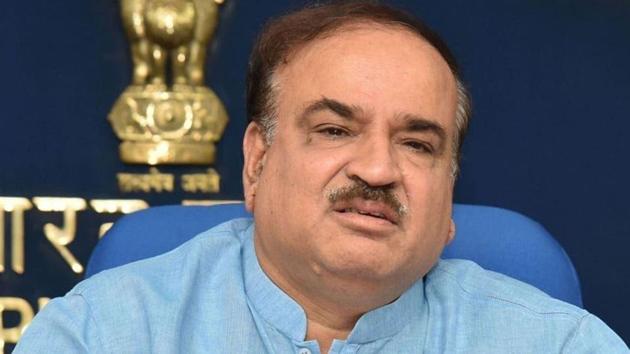 Ananth Kumar, senior BJP leader and Union minister, died at a private hospital in Bengaluru early on Monday after battling cancer, his office said.
"I am sorry to inform the sad news that our beloved Hon'ble Minister Shri Ananth Kumar passed away today morning 2am in Bengaluru from complications following cancer and infections. He had been in the ICU and on a ventilator for the last few days," an official from his office said.
The 59-year-old leader is survived by his wife and two daughters.
The Union ministry of home affairs said the national flag will fly at half mast throughout the country on Monday and that a state funeral will be accorded to Kumar. The Karnataka government declared a three-day mourning in respect of the leader.
New agency PTI reported quoting unnamed official sources that Prime Minister Narendra Modi is likely to chair a special meeting of the Union cabinet later in the day to condole Kumar's death. It added that a resolution condoling his demise and hailing his contribution would be passed.
'Able administrator, valued friend'
Tributes to the Union minister for chemicals, fertilisers and parliamentary affairs poured in from all spectrums of the political divide as leaders offered their condolence to his family.
"Sad to hear of the passing of Union minister and veteran parliamentarian Shri H.N. Ananth Kumar. This is a tragic loss to public life in our country and particularly for the people of Karnataka. My condolences to his family, colleagues and countless associates," President Ram Nath Kovind tweeted.
The Prime Minister said he was "extremely saddened by the passing away of my valued colleague and friend".
"He was a remarkable leader, who entered public life at young age and went on to serve society with utmost diligence and compassion. He will always be remembered for his good work," Modi posted on Twitter.
The Prime Minister called Kumar an able administrator and said he was a great asset to the BJP, who "worked hard to strengthen the party in Karnataka", and in Bengaluru in particular.
"I spoke to his wife, Dr. Tejaswini Ji and expressed condolences on the passing away of Shri Ananth Kumar Ji. My thoughts are with his entire family, friends and supporters in this hour of grief and sadness. Om Shanti," he added.
Union home minister Rajnath Singh said Kumar's death was a personal loss for him.
"Absolutely shocked and pained by demise of very senior colleague and a friend Shri Anant Kumar ji. He was a seasoned parliamentarian who served nation in several capacities. His passion and devotion for welfare of people was commendable. My condolences to his family," Singh tweeted
"My mind is filled with memories of working with Anant Kumar ji in the government and party organisation. These memories will stay with me. His demise is a big loss for the BJP. It is also a personal loss for me," the home minister said.
"Deep sense of grief on hearing that Shri Ananth Kumar is no more with us. Served BJP all along. Bengaluru was in his head and heart, always. May God give his family the strength to bear with this loss," defence minister Nirmala Sitharaman said.
The Bharatiya Janata Party's president Amit Shah expressed his deepest condolence and said his death has left a void in the BJP.
"I am grief stricken to learn about the untimely demise of our senior leader and union minister Shri Ananth Kumar ji. He served the nation and organisation with unparalleled zeal and dedication. Ananth ji worked tirelessly to strengthen the BJP in the state of Karnataka," Shah said.
"Ananth ji was a remarkable administrator who served various ministerial portfolios. His passing away has left a void in the BJP and Indian polity that can not be filled soon. May God give his family and supporters strength to bear this tragic loss. My deepest condolences," he added.
Congress president Rahul Gandhi also tweeted his respects to Kumar.
"I'm sorry to hear about the passing of Union Minister #AnanthKumar Ji, in Bengaluru, earlier this morning. My condolences to his family & friends. May his soul rest in peace. Om Shanti," Gandhi said.
Karnataka chief minister HD Kumaraswamy also condoled Kumar's death.
"I have lost a great friend in his death. He was a value based politician, who made a significant contribution to the country as an MP and Union minister. May his soul rest in peace and may God give strength to his family and his followers to endure this loss," Kumaraswamy said, according to news agency ANI.
From ABVP to BJP
Kumar was born in a middle-class family on July 22, 1959, in Bengaluru to Narayan Shastri, a railway employee, and Girija N Shastry. His early education began under the guidance of his mother, who was a graduate.
A graduate in arts and law, Kumar's journey into public life began due to his association with the Akhil Bharatiya Vidyarthi Parishad, a student organisation affiliated to the BJP's ideological mentor Rashtriya Swayamsevak Sangh, which he served in various capacities, including as the state secretary and national secretary.
Kumar joined the Bharatiya Janata Party in 1987 and went on to take up the responsibilities of the state secretary, state president of the Yuva Morcha, general secretary and national secretary.
He began his parliamentary career when he was elected to the Lok Sabha in 1996 from Bangalore South, the constituency which remained his strong fort till his passing away, by winning it for six consecutive times.
Kumar, a six-time member of Parliament from the Bengaluru South constituency, held various portfolios in the governments headed by Atal Bihari Vajpayee and Modi.
He was the "youngest" minister in Vajpayee's cabinet in 1998. He served as the civil aviation minister, as well as the minister for tourism, sports, youth affairs and culture, as well as urban development and poverty alleviation.
Kumar won the 15th Lok Sabha election from Bengaluru South by defeating IT Czar Nandan Nilekani.
(With PTI inputs)
Personalise your news feed. Follow trending topics