UP meat sellers begin strike, VHP chief's Ram temple call: Top 10 stories to bring you up to date
Published on Mar 27, 2017 07:04 AM IST
UP meat sellers begin strike, VHP chief's Ram Mandir call: While you were away, here are top 10 stories to bring you up to date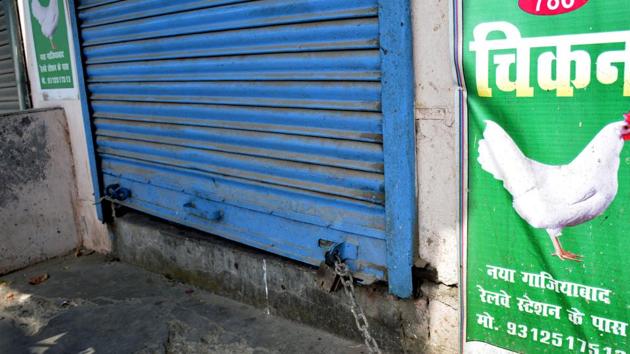 Hindustan Times, New Delhi |
HT Correspondent
1) No more US university dreams? Applications from Indian students see drop
A large number of US colleges are reporting a decline in applications for admission from international students, including from India and China, because of concerns and anxieties about the Donald Trump administration's travel orders and a growing perception that the United States has become less welcoming of foreigners, according to a new survey. The largest drops were reported from India and China, who together made up 47% of the international students in 2016, totalling almost half a million, according to Open Door, a government-funded body that studies and tracks international students and scholars.
Read the full story here.
2) UP CM Adityanath's message to officials: Work 18 to 20 hours daily or leave
In a stern message to state officials, Uttar Pradesh chief minister Yogi Adityanath on Sunday said those who are not prepared to work for 18 to 20 hours daily are free to leave their jobs. "The state government will not tolerate any laxity in implementation of the government schemes. Officers who are willing to work 18-20 hours daily can continue with the government or else they are free to leave," he said, addressing a BJP meeting on his home turf of Gorakhpur.
Read the full story here.
3) How will development take place?': PM Modi cites Dehradun girl's impassioned message on Mann ki Baat
A teenager poured all her disgust in a voice message to the Prime Minister over a stinky, garbage-choked river flowing close to her backyard in the Uttarakhand capital. Prime Minister Narendra Modi liked 16-year-old Gayatri Singh's explosive appeal for her right to live in a clean environment so much that he included the girl's audio clip in the 30th edition of his Mann ki Baat monthly radio address on Sunday.
Read the full story here.
4) UP meat sellers to launch indefinite strike from today over govt crackdown
Meat sellers across Uttar Pradesh will go on an indefinite strike from Monday against the crackdown on illegal and mechanised slaughterhouses. Fish vendors were also claimed to have resolved to join the stir which has seen non-vegetarian delicacies go off the menu in several parts of the state. "We have decided to intensify our strike from tomorrow. All shops will remain closed. Fish sellers too have joined us and are extending support to us," said an office bearer of Lucknow Bakra Gosht Vypar Mandal.
Read the full story here.
5) VHP chief Pravin Togadia revives call for Ram temple, seeks population control
Vishwa Hindu Parishad (VHP) international working president Pravin Togadia on Sunday asked the Centre to pass two laws, one concerning the construction of the Ram temple at Ayodhya and the other to ensure population control across communities, in Ahmedabad on Sunday. Addressing a large crowd at the Virat Hindu Sammelan, Togadia also tried to address the issues arising from the Patidar quota stir by demanding free education for 10 crore Hindu school students.
Read the full story here.
6) No need for Parliament nod to waive property tax in Delhi: Deputy CM Sisodia
Deputy chief minister Manish Sisodia has reaffirmed the Aam Aadmi Party's promise to do away with residential property tax and arrears if his party wins the April 23 municipal corporation elections in the Capital. The BJP has criticised the announcement saying the tax waiver cannot be implemented without Parliament amending the Delhi municipal corporation act, the parties said. Sisodia maintains that his government has done due diligence before making the announcement.
Read the full story here.
7) Israel offers strike-capable drones to India
Israel has offered to sell India its armed unmanned aerial vehicles Eitan or Heron TP in order to enhance its stand-off strike as well as long-range strategic strike capability. The offer is still on the table, with South Block interested in bringing the unmanned weapon through "Make in India" route. With the security establishment convinced that long range stand-off weapons would take precedence over direct engagement in future conflicts, New Delhi has been interested in acquiring armed medium-high altitude, long-endurance UAVs with payload capability in the form of laser-guided bombs or air-to-ground missiles. In this context, Indian military has been looking towards the US and Israel for acquiring Predators or Heron TPs.
Read the full story here.
8) UK Home secretary says WhatsApp must make itself accessible to police
Encrypted messaging services like WhatsApp must make their platforms accessible to intelligence agencies, a top British security official declared Sunday amid reports that the Westminster attacker used the service minutes before his assault on Parliament. Home secretary Amber Rudd said it is "completely unacceptable" for messaging services to provide end-to-end encryption that means security services cannot listen to plots being discussed.
Read the full story here.
9) Jermaine Defoe scores in comeback as England toil to win vs Lithuania
Jermain Defoe adorned his international comeback with a goal as England toiled to a 2-0 victory over Lithuania in a forgettable World Cup qualifier at Wembley on Sunday. Defoe, 34, was making his first England appearance since November 2013, having been recalled by manager Gareth Southgate, and he marked his return with the opening goal midway through the second half.
Read the full story here.
10) Dharamsala Test: Cheteshwar Pujara's record and key moments from Day 2
Cheteshwar Pujara and KL Rahul struck fifties but Australia ended Day 2 on top thanks to a superb spell by Nathan Lyon, who picked 4/67. India ended day 2 trailing by 52 runs with four wickets remaining. Pujara's knock saw him go past Gautam Gambhir's eight-year record of scoring the most runs in a Test season.
For the highlights of Day 2 read the full story here.
Personalise your news feed. Follow trending topics