Who is Maya Kodnani: Once rising star of Gujarat, convicted in 2002 riots
She was appointed minister of state for women and child development in 2007, but two years later was forced to resign after her arrest.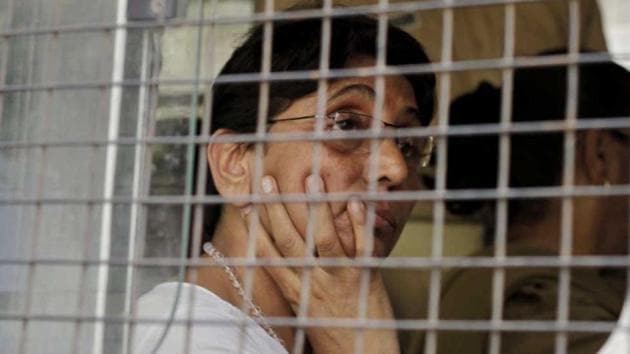 Updated on Sep 18, 2017 01:29 PM IST
BJP president Amit Shah on Monday appeared as a defence witness for Maya Kodnani, telling a special court that the former Gujarat minister was at the state assembly and a government hospital when the 2002 riots broke out in Ahmedabad.
Kodnani stands accused of inciting a mob that killed 11 people in the city's Naroda Gam on February 28, 2002.
Once a rising star in the Gujarat BJP, Kodnani, a gynaecologist by profession, was elevated to the minister of state for women and child development in the Gujarat government in 2007. In 2009, Kodnani was forced to resign after her arrest in the separate Naroda Patya rioting case.
Early life
A report in the Indian Express describes Kodnani's early life, studying in a Gujarati-medium school founded by her father in Deesa. After school, she enrolled in the Baroda Medical College to pursue MBBS, followed by a diploma in gynaecology and obstetrics. At the same time, she joined Rashtriya Sevika Samiti, the RSS women's wing.
She later moved to Ahmedabad and set up the Shivam Maternity Hospital in Kubernagar in Naroda.
Political career
Her first brush with politics came in 1995, when the BJP fielded her as their candidate from Saijpur ward in Ahmedabad civic elections. The BJP won and Kodnani was later elevated to the chairman of the standing committee.
In 1998, Kodnani was elected as the BJP MLA from Naroda. She was also the general secretary of Gujarat Pradesh BJP Mahila Morcha and later, from 1998 to 2000, its chief.
In 2000, she became the first woman president of the Ahmedabad BJP, a position she retained till 2005.
Narodya Patya and Naroda Gam massacres
The 2002 riots in happened during Kodnani's stint as BJP's MLA from Naroda. She was convicted for instigating rioters and orchestrating the Naroda Patya massacre on February 28, 2002, where 97 people, including women and children were brutally murdered by a mob led by the Bajrang Dal.
Kodnani is also accused of instigating the Naroda Gam riots, where 11 people died, and of firing a pistol and distributing arms that she had transported to Naroda in her car.
After the riots
Kodnani's ascent to power continued after the riots. Mentored by BJP patriarch LK Advani, she won the 2002 elections with a huge majority. In 2007, she was appointed as the MoS for women and child development.
The case against Kodnani
A Supreme Court-appointed special investigation Team (SIT) made Kodnani an accused in the Naroda Patiya case. She was declared an absconder after she failed to respond to SIT's requests for a deposition.
Kodnani was arrested in March 2009, following which she resigned as minister of state for women and child development.
In August 2012, a special SIT court convicted and sentenced Kodnani to life, describing her as the "kingpin of the massacre".
In 2014, a Gujarat high court accepted Kodnani's plea for regular bail on 'health grounds'.
Close Story
Personalise your news feed. Follow trending topics