Why stubble burning in Haryana and Punjab has intensified in last 10 years
Oct 28, 2018 08:12 AM IST
Burning of crop residue has intensified over the past decade because of multiple reasons
The stubble burning phenomenon in Haryana and Punjab is linked to three unlikely factors: the (relatively) large size of landholdings of farmers in these states; the (consequent), high level of mechanisation; and, only in Punjab, a water conservation law that shortens the harvest window, HT's reporting has shown.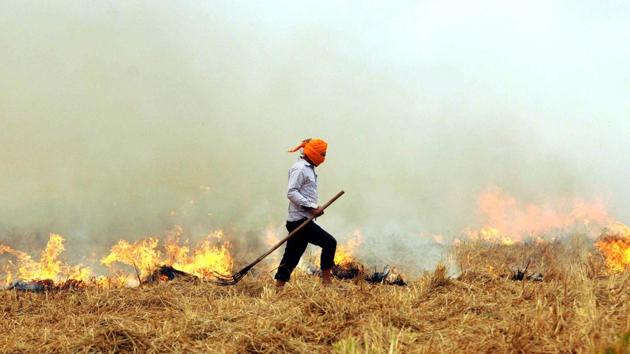 None of the three is usually listed among the reasons for stubble burning.
Unlike the decreasing landholding size at an all-India level, the operational landholding size in Punjab has increased over the years. Data from the national agricultural census 2011 show that average land-holding size in Punjab has gone up from 2.89 hectares (7.1 acres) in 1970-71 to 3.77 ha (9.3 acres) in 2010-11, much higher than the national average of 1.5 hectares (3.7 acres). In Haryana, it is 2.25 hectares (5.5 acres). The next state in terms of magnitude of landholding is Arunachal Pradesh (3.5 hectares or 8.6 acres).
These relatively large land-holdings mean farmers can afford to use machines, at least for some critical functions.
Crop-residue burning has intensified over the past decade because of multiple reasons, said Manpreet Singh, a farm engineering specialist at Punjab Agricultural University, Ludhiana.
The use of mechanized harvesters, which result in loose straw, is one of the key reasons, he said.
Punjab's high farm mechanisation levels have now become counter-productive.
According to a report by the Environmental Information System (ENVIS) Centre, Punjab, farm mechanisation in the state has reached its "saturation point" and therefore "no more viable, both economically and environmentally".
Citing data from the Punjab State Farmers' Commission, the ENVIS Centre report states that Punjab has almost the double the number of tractors it actually requires, (16% of the total in India), going by the state's net-sown area. Average annual use of tractors is only 450 hours, much below the minimum 1,000 hours of productive use in agricultural operations. "This is leading to over capitalisation in farm mechanisation and under-utilisation due to decrease in farm size," the report says. The state also has seen a boom in sale of mechanised harvesters (see graphic).
The harvesters are designed to shave off the grainy part of paddy, leaving loose straw in their wake. Farmers find it cheaper to clear the residue by burning.
Hundreds of thousands of farmers in Haryana and Punjab, where much of the region's paddy is grown, set their rice fields on fire to clear left-over loose straw after harvesting paddy to make way for wheat.
A 2009 water-conservation law in the state narrows down the paddy-sowing window to cut down on irrigation rounds. Consequentially, the window available for harvesting paddy is also limited to 15-20 days. "This means over 2 million farmers all grow similar varieties of paddy and harvest them all at the same time," Singh said. The area under paddy has also steadily grown because it is by far the most profitable crop.
The Punjab government has announced a US$1 million global fund to hunt for new technologies to tackle paddy-straw burning by farmers that triggers north India's toxic winter smog, as officials said current measures aren't fully capable of addressing the apocalyptic problem.
To curb the practice, the Centre last year announced funds totaling ₹1151.80 crore ( ₹ 591.65 crore for 2018-19 and ₹560.15 crore for 2019-20) to subsidise the use of additional farm equipment, such as the straw management system or SMS.
These smaller machines, which can be attached to mechanized harvesters, shred the residue, eliminating the need to burn them.
The Punjab government has banned the burning of crop residue. The state has also made the use equipment, such as happy seeder and straw management system, mandatory with mechanized harvesters. In 2017, farmers were fined ₹65 lakh in all for burning crop residue.
Yet, these measures have been only partially successful. According to Hiren Jethva, a scientist with NASA's Goddard Space Flight Centre, satellite data has shown 5893 "observed crop-fire occurrences" in Haryana and Punjab between October 1 and 22 this year.
Last year, Punjab reported over 44,000 paddy-straw burning incidents, while 25,000 incidents were recorded in neighbouring Haryana.
"My view is that machine-based technologies can't fully address the issue. We need disruptive technologies. The US$ 1 million funding has been authorised by the Punjab government. We are the implementing agency, while testing will be done by the Punjab Agricultural University," said Ajay Vir Jakhar, the chairman of the Punjab State Farmers' and Farm Workers' Commission.
Last year, large parts of north India were enveloped in extreme air pollution from the winter smog, forcing authorities in Delhi to shut schools, halt construction and shutter thermal plants.
In Punjab, which reports far more fire incidents than Haryana, the government has authorized the use of eight farm equipment, including the so-called happy seeder, that are capable of clearing crop residue. Individual farmers can avail 50% subsidy to buy these machines, while farmer groups are eligible for up to 80% subsidy. These machines cost between ₹1.40 to ₹1.60 lakh. The tractor-mounted "happy seeder" can be used to sow wheat without the need to clear the straw left from the paddy harvests.
"The problem is farmers still prefer burning because of lack of awareness and cost issues. Total crackdown isn't possible because farmer lobbies are very powerful," said HS Sidhu, senior research engineer of the Ludhiana-based Borlaug Institute for South Asia. Sidhu was one of the developers of the "happy seeder" when he was employed with the Punjab Agriculture University.
Jakhar, the chairman of the Punjab State Farmers' and Farm Workers' Commission, said the Netherland's Wageningen University, one of the world's most advanced centres for agricultural reaearch, and a UK firm have applied for the paddy-straw challenge fund to come up with solutions.
Even if farmers were willing to adopt subsidised machinery to eliminate the need for straw-burning, the total funds available aren't enough to cover all paddy farmers, Sidhu said.