Sunil Jakhar quit the Congress last week after an association of about 50 years. He said it was a "hard decision" for him. Five days later, he joined the BJP in presence of party's national president JP Nadda.

Written by Sharangee Dutta | Edited by Sohini Goswami
, New Delhi
The chief minister, Bhagwant Mann, spoke about the additional deployment after a meeting with Union home minister Amit Shah in Delhi during which the latter assured him of all assistance from the central government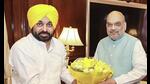 Punjab chief minister Bhagwant Mann said union home minister Amit Shah told him there is no compromise on the national security and it is above party politics and the central government would provide all help necessary to the Punjab government.

In a three-hour-long meeting held with farm leaders, Punjab CM Bhagwant Mann announced a fresh schedule for staggered paddy sowing from June 14 and June 17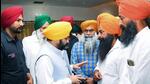 Mann said that he had already announced purchasing the Basmati and Moongi crop on MSP adding that the state government was also incentivizing the farmers to adopt direct sowing.