Wildlife board recommends using Section 144 during animal emergencies
The Union ministry is expected to issue advisories to the state governments. The District Magistrate (DM) is empowered to enforce section 144, that prohibits the gathering of more than four people.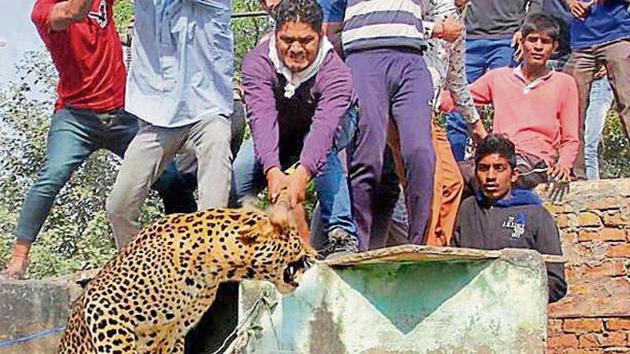 Updated on Jul 08, 2018 08:28 AM IST
The National Board of Wildlife has recommended that state governments use Section 144 of the Criminal Procedure Code (CrPC) to prevent the gathering of a crowd during wildlife emergencies.
Usually in instances of human wildlife-conflicts, especially in a populous country like India, crowd control becomes a major issue, endangering not just the animal but also people. In 2016, a leopard was beaten to death by villagers in Gurgaon after it injured eight people. Forest officials who came to tranquillise the animal said their operation was hampered due to the presence of a large crowd.
When imposed by the district magistrate (DM), Section 144 of the CrPC prohibits the assembly of five or more people.
According to the minutes of the board's meeting held in June, the provision will be used to "prevent people gathering in large numbers, which aggravates wildlife emergency situations." The Union ministry is expected to issue advisories to the state governments to that effect.
"When there is a human-wildlife conflict, a crowd is going to interfere, it will make the situation much worse," Janaki Lenin, author and conservationist, said. "In many cases they have trapped and killed the animal."
Wildlife activists argue that even the existing protocols are not being implemented properly during wildlife emergencies and that there should be an inter-agency effort involving local law enforcement and administrative bodies in such cases.
"In a situation when a carnivore or a large herbivore is reported within a human-dominated space, a crowd gathers near the animal within minutes. By the time the forest department staff reach the, the crowd makes things difficult for technical operations," Dipankar Ghose, director, species and landscapes at World Wildlife Fund (WWF)-India said.
The board has also recommended that Standard Operating Procedures or action plans be developed for emergency situations when a wild animal comes in close proximity of humans. There are already SOPs and guidelines in places for species like tigers, leopards and elephants.
Close Story
Personalise your news feed. Follow trending topics