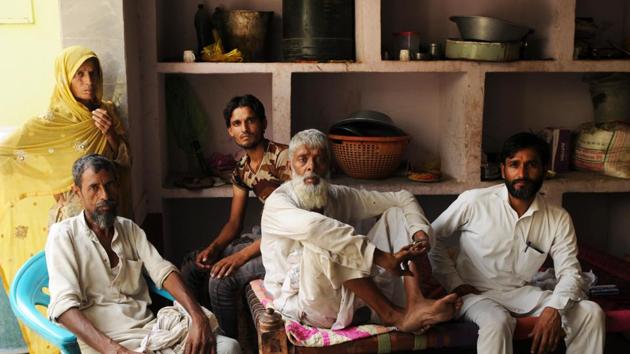 Woman with 18 children says 'fertility fame' did nothing to end poverty
Bissar of Haryana village become a curiosity show of sorts after she was featured in a Hindi media. Headlines didn't end her family's hardscrabble life.
UPDATED ON JUN 14, 2018 03:42 PM IST
In the dusty village of Akera in Mewat, 58 kilometres from Gurugram, there is a woman with whom people want to click selfies. Her name is Bissar and the reason for this slice of fame is that the 55-year-old woman has given birth to 23 children, of whom 18 have survived.
Bissar married Mohammad Ishak in 1976 when she was just 13 years old. Ishak was five years older than her. Over the next four decades, Bissar would become pregnant 23 times. Five babies didn't survive. "Woh marte chale gaye (they kept dying)," she said, when asked how she lost the five. The youngest of her surviving children is six-year-old Sabra and the oldest is 30-year-old Sahuni.
Today, the mother of 18 is a widow who is struggling to make ends meet and the spotlight she got for her fertility is distasteful to her. She says that after Ishak passed away in 2014, she's become a curiosity show of sorts after she was featured in a Hindi media.
"My daughter has been told by her in-laws that they will desert her if I give an interview to a media person as her childhood picture had gone viral and they said it brought shame to the family," said Bissar.
Now, when people come up to her, they don't seem to notice the abject poverty in which Bissar is struggling to survive. "Two weeks ago, some foreigners had come to meet me for some research. I turned them away," Bissar said.
"Nobody offers us help. They only want to talk about our personal life. They should pay us for taking selfies," said her son, 27-year-old Farukhddin.
The mother of 18 children
Akera, in Nuh Tehsil of Mewat district, has 1,394 families. It has a population of 8,935, of whom 4,701 are male and 4,234 are female, as per the Census of 2011. Haryana's total fertility rate (TFR) is 2.3 according to Niti Ayog, which has fallen since the early 2000s and is now close to what is widely considered the ideal number (2.1). However, the village has a lower literacy rate than the state average. In 2011, Akera's literacy rate was 52.91% compared to 75.55% in Haryana. Only 31.88% of the women were literate, while the literacy rate in the male population was 71.86%.
Bissar, like many in her village, is illiterate as are her children. "My husband worked hard to ensure the children got the best, in terms of food and lifestyle, but we never thought of their education as we never went to school. Hardly anyone from our neighbourhood went to school," said Bissar.
After Ishak's death, she's slipped further and further into poverty. "One meal a day is a feast for us," said Bissar, who now suffers from short-term memory loss according to her family and other villagers.
While Bissar's fertility has been written about in Hindi media, Ishak was the family's breadearner. "My husband used to ferry goods for shopkeepers in his camel cart and worked extra time as a labourer at a construction site, but he fell seriously ill in 2010 and was bedridden. All of a sudden, the income stopped and we started selling our gold," Bissar said.
Ishak was diagnosed with tuberculosis, heart issues, and asthma. For treatment, Bissar had to take him to a hospital in Alwar, when he was kept for four months. There are government hospitals in Nuh and Mandi Khera village which are one of the best.
According to the villagers these hospitals are better than private clinics around and the facilities are much better but Bissar took him to Alwar as the husband had already visited that private hospital and wanted his treatment to be done from there. He had no faith on government doctors, she said.
Poor outreach of family welfare programmes
There are various schemes under Family Welfare Programme in Mewat starting with Copper-t375, which is a new introduction to the system in addition to Copper-t 380 -Having life span of 10 years. Introduction of this will give a choice to acceptance per their needs. Post
Partum Sterilisation (PPS) and PPIUCD are the facility of Post Partum Sterilisation (PPS) and PPIUCD which was introduced in Haryana during the year 2012-13. This facility is being extended to all primary hospitals and for this special programme of training of staff nurses in these centers in 2013-14 have been planned and is being executed.
Bissar's 23 children are evidence of how the family planning outreach programmes don't reach their targets. "I have never heard of any family planning and my husband was against it", Bissar said adding that the couple believed their children were "Allah ki den" (God's blessing). "We tried to spread awareness amongst the villagers but they are adamant and stop interacting with people who talk about family planning issues," said Rajuddin, an individual social worker
While Rajuddin claims villagers don't allow social workers to work in Akera, locals tell a different story.
"We are not even aware of any schemes provided by the government so we have never applied for any nor any officials have ever visited us to inform us regarding any benefits," said Subhash Chand, sarpanch of Akera.
No help from the state
Ishak's treatment at the hospital in Alwar , where he was admitted for four months, cost the family Rs 4.5 lakh. They had to sell the camel cart, losing one critical element of earning a livelihood. He passed away in 2014 and ever since, Bissar has slipped deeper and deeper into poverty.
The fact that she's been a mother 23 times may make her a popular selfie candidate, but it isn't enough to get her a widow's pension.
"I have approached government officials and local politicians many times in the past year, but no one is ready to help her. I have also written to the chief minister of Haryana to help Bissar to get old age pension, but haven't received any reply from them," said Chand.
Bissar has approached the district administration repeatedly over the past three years, but this too has been a dead end. "I have met almost 20 officials and have submitted written requests but they have ignored it," said Bissar. "No one has ever turned up even to see if my children and me are alive. They blame and harass me for giving birth to my children."
The old age pension she got from the government in 2016 was a relief, but that stopped after a year, when a villager complained she wasn't old enough to be eligible.
"Someone from the village had helped me and my husband get a pension, as I never had a birth certificate or a document to establish my age. The people who conducted the survey confirmed that we were eligible and we started getting a pension," Bissar said, insisting she had no idea that one had to be 58 to qualify for old-age pension.
A year later, there was a complaint, following which the district administration stopped the pension. Now they've said that the widow's pension will be granted only after Bissar has paid back the ?30,000 she got as old-age pension from the government. This is an impossible task for Bissar, who lives with seven of her children. Only two sons work, but they earn irregular daily wages. Bissar, the mother of 18, has no fixed earning. However, she doesn't qualify for the below poverty line (BPL) category.
According to the officials who conducted survey said she does not qualify to fall under BPL, said sarpanch.
"If we do not fall in the BPL category then, who does?" asked Bissar. "When I raised a question about the survey, I was told I am uneducated and so, I do not know the technicalities of the scheme. The officials who conducted the survey asked me to pay ?10,000 if my family was to be marked as BPL, but from where do I pay the bribe when I can barely afford a meal?"
When asked if there was some way for the state to help Bissar, deputy commissioner Ashok Kumar Sharma said, "We have no schemes [that apply to Bissar]. In such cases, we check all facts and see what the administration can do. Her old age pension was stopped due to technical issues."
For Bissar, his words are like a death knell. "If the situation remains the same, I will soon become news for dying of starvation," she said.
Close