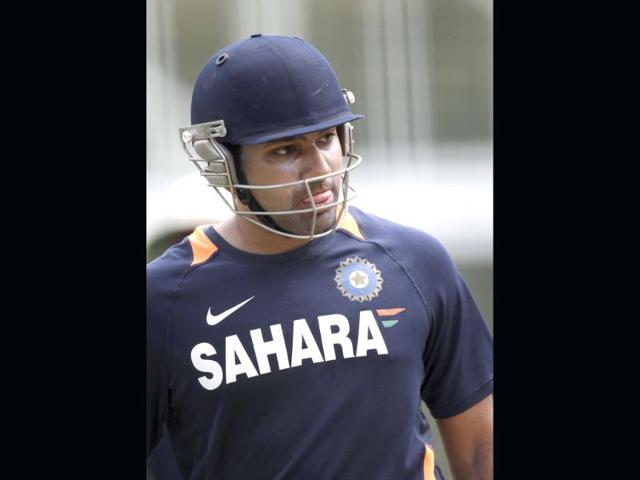 After a long wait, Rohit's first big chance goes abegging
When the wait finally ended for Rohit Sharma at Sydney's Olympic Stadium, it turned out to be an anti-climax, which had shades of déjà vu. Rohit Bhaskar reports.
Hindustan Times | By Rohit Bhaskar
, Melbourne
UPDATED ON FEB 03, 2012 12:53 AM IST
He was heckled by Indian fans, he spent sleepless nights, he perfected the art of basement plastic-ball cricket, he carried drinks time and again, he wore a perpetual smirk, which on occasions gave way to an impish smile, and he waited. And waited!

When the wait finally ended for Rohit Sharma at Sydney's Olympic Stadium, it turned out to be an anti-climax, which had shades of déjà vu.

Months ago, he'd seen India succumb to a 4-0 defeat in England from his plush new Bandra residence; in failure he saw opportunity. He practiced like a mad man at Maharasthra Cricket Association's Bandra-Kurla Complex. He batted for hours in the nets; more hours were spent in the gym. He arrived in England for the ODI series. The first ball he faced, turned out to be his last. A nasty blow on the finger ended his tour before it could even begin. A Stuart Broad delivery that rose steeply left him writhing in pain, X-rays revealed he had injured his right index finger. His first ball of international cricket on this tour left him writhing in a different sort of pain. From the time he hit an unbeaten 38 in India's final practice match at Canberra, to the innings at Sydney's Olympic Stadium 42 days later, Sharma was the proverbial benchwarmer.
As he walked out to bat at the fall of Virat Kohli's wicket, an air of expectancy hung over the 59,659 fans in the stadium like the smoke from an extended session of fireworks at the innings break. The anticipation reached fever pitch when the man, whose reputation grew without hitting a ball, took guard. Seconds later, he clumsily deflected an innocuous David Hussey delivery onto his pads and then the stumps. A golden duck.
The blame for the dismissal, even the manner, can hardly be put down entirely on Sharma, a tourist for most of the series Down Under. At the Melbourne Cricket Ground prior to the Boxing Day Test, the batsmen honed their skills in the nets. All the likely playing members first. VVS Laxman then went for a press conference at the basement conference room. Outside, Rohit was orchestrating a game of plastic-ball cricket. The Aussies were having a swing batting boot camp, Rohit was organising a boot camp of a different kind.
Throwdown expert Raghavendra DVGI was handed a plastic ball, Ajinkya Rahane was batting, while Rohit, with a baseball catcher's mitt, was the wicketkeeper and the man organising the game.
Through Sydney and Perth, his chances brightening with each passing failure of the fabled batting line-up, Rohit kept carrying the drinks. For Virender Sehwag, for VVS Laxman, for Virat Kholi. He wore a fluorescent vest over his cricketing whites, with drinks in hand, sometimes gloves, sometimes bats.
By the time Adelaide arrived, experts, selectors and even the casual fan thought Rohit's time was now. He, of course, knew before most that he wouldn't be making his Test debut in Bradman Town.
At 6 am, a day before the fourth and final Test got underway, Sharma was strolling back from a 24-hour McDonald's on Adelaide's Hindley Street. "Early morning?" one enquired. "Couldn't sleep last night, was feeling hungry," he replied.
"What were you doing?" one asked. "I was watching a movie all night," he said, as one nodded perspicaciously, not enquiring further. Chances of playing the Test? "Not bright, won't be playing in Adelaide," he said, resigned to the harsh reality.
From that to batting in front of 60,000-odd fans - he's already had a long journey. Now, for the wait to see it bear fruit.
Close