Afzal Guru was hanged by UPA for 'political reasons': Omar
A combative Omar Abdullah lashed out at Narendra Modi on Sunday, saying it was wrong for the Prime Minister to attack the opposition during his foreign tours.The former Jammu and Kashmir chief minister also backed Delhi chief minister Arvind Kejriwal in his turf war with the lieutenant governor over administrative powers.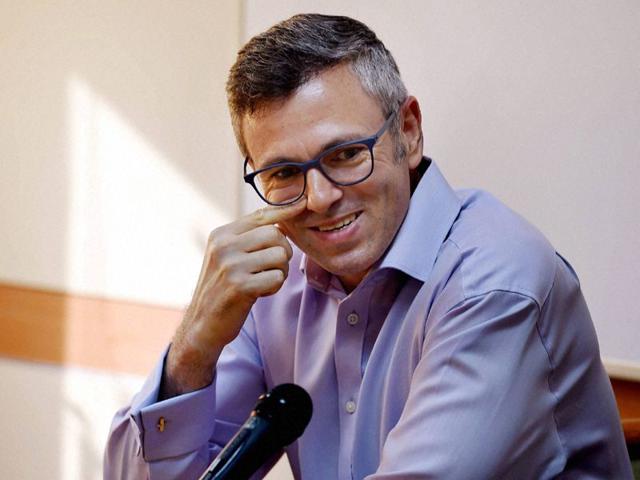 Updated on May 24, 2015 09:26 PM IST
A combative Omar Abdullah lashed out at Narendra Modi on Sunday, saying it was wrong for the Prime Minister to attack the opposition during his foreign tours.

The former Jammu and Kashmir chief minister also backed Delhi chief minister Arvind Kejriwal in his turf war with the Lieutenant Governor over administrative powers.

While Abdullah appeared appreciative of a "renewed" Congress vice-president Rahul Gandhi, he stirred a storm by saying Parliament attack convict Afzal Guru was hanged by the previous UPA government for "political reasons".

Here's a look at all that he said.

Modi's "Me, myself and I"

The National Conference leader said Modi's attacks on previous regimes during his foreign tours were part of "that whole thing of about me, myself and I alone".
Abdullah, also a former minister of state for external affairs, said, "That is something that I don't approve of. To go abroad and target your political opposition or to say that people were embarrassed to be an Indian till I came along as Prime Minister, I think it is wrong."
He added: "The implication of that is he himself was embarrassed to be an Indian until exactly one year ago...He did not get a visa to go to America, but everywhere else that he went as chief minister of Gujarat, he was actually embarrassed to show his passport."
During recent trips to China and South Korea, Modi said Indians were ashamed of being born in the country before the BJP came to power, remarks that evoked sharp reactions from political leaders and the public.

Reminding Modi that running a state and running a country are two different things, Abdullah said it was impossible to micro-manage India or run it as a "one-man show".
"And therefore if every decision has to be sort of looked at a micro level right up to the Prime Minister's Office (PMO), it's not going to happen," he said.
Referring to the NDA government's performance, he said, "The Prime Minister and his ministers are victims of their own campaign. They raised expectations to a place where delivery was always going to be difficult and impossible."

Afzal Guru hanging

The hanging of Afzal Guru was carried out for "political reasons" by the UPA government, which informed Abdullah just hours before the execution.
Abdullah said he received a call from then home minister Sushilkumar Shinde while he was out for dinner with his sister in Delhi and learnt that Shinde had signed the papers for Guru to be hanged early next morning. Shinde asked him to make arrangements to maintain law and order.
"I asked the home minister whether he was sure that nothing can be done. He said no as he had signed the paper and warrant has been issued and asked me to deal with the implications," he said.
Pointing out that the cases of the assassins of Rajiv Gandhi and Indira Gandhi were handled differently, he said, "The fact is whether we like it or not, he was hanged for political reasons. It's a fact.
"Clearly what other conclusion can you arrive at other than this, that they wanted to deny the BJP another handle to beat them with in the general elections and, therefore, the easiest two people to be hanged were Ajmal Kasab because he was a foreign national and Afzal Guru. Whether I like it or not but they did it."
Guru, who was at serial number 28 in the list of condemned prisoners, was hanged on February 9, 2013. A controversy erupted as his family learnt of his hanging on television.
The Congress rejected Abdullah's claim and Shinde said no political reason was involved in Guru's hanging.

New Rahul
Rahul Gandhi preferred silence during the UPA regime as speaking his mind would have meant either being critical of Prime Minister Manmohan Singh or his mother Sonia Gandhi, Abdullah said.
He saw an "amazing transformation" in Rahul's approach after his recent 56-day sabbatical.
"The Rahul who left is not the Rahul who has came back," Abdullah said. "I don't know what it's down to. I haven't had the chance to meet up with him as he has been incredibly busy but I don't know where he went and what he did...
"What this transformation is down to, I will try and learn because I guess there are lessons to be learnt for myself in that as well. I just hope that it doesn't mean I have to disappear for 56 days. But it's good. Hats off to him," Abdullah said.
Abdullah hoped Rahul would sustain this momentum till the next general election.

Kejriwal's freedom

Coming out strongly in support of Kejriwal in his tussle with the lieutenant governor, Abdullah said Jammu and Kashmir had to pay a "heavy price" for similar issues involving the office of the chief minister and the governor.
He said Kejriwal, with an overwhelming mandate to run Delhi, should have the "freedom and flexibility" to choose his team instead of an "unelected L-G".
"But why have an election where you elect the chief minister and then tie his/her hands behind the back and then take decisions. Nobody has elected the LG of Delhi," he said.
Abdullah said though he had no personal rapport with Kejriwal and had yet to meet him, his support was based purely "on principle".
"I have a whole lot of sympathy for Kejriwal on this issue. It (support) was purely on principle. I mean I believe that (the opinion expressed through tweets), not because I have any personal rapport with him," he said.
The appointment of senior bureaucrat Shakuntala Gamlin as acting chief secretary by Najeeb Jung last week triggered the tussle between the ruling AAP and the L-G.
The Centre issued a notification on Friday, giving absolute powers to Jung in the appointment of bureaucrats and clarifying that he need not "consult" the chief minister on subjects like police and public order.
Close Story
Personalise your news feed. Follow trending topics