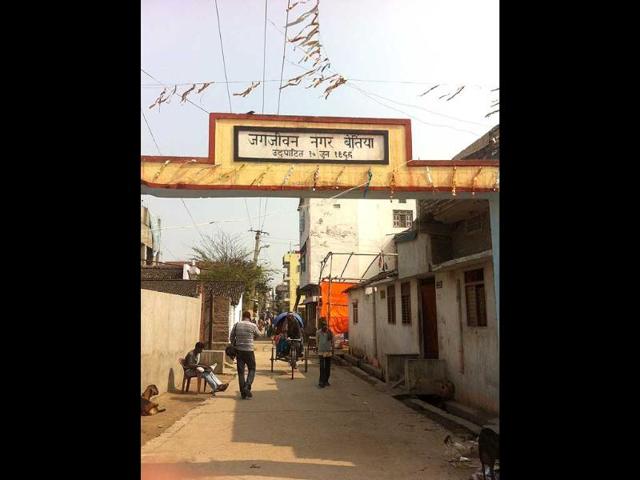 Bihar's showpiece dalit settlement grapples with change, continuity
Almost five decades after dalit leader Jagjivan Ram inaugurated the showpiece dalit settlement in Bihar's Bettiah, a walk down this area reveals how amid shifting political loyalties, some hard economic and developmental realities remain unchanged.
UPDATED ON FEB 20, 2014 07:08 PM IST
Six months after Indira Gandhi took oath for the first time as India's Prime Minister in 1966, Congress' tallest dalit leader Jagjivan Ram inaugurated a showpiece dalit settlement, Jagjivan Nagar, in Bettiah area of Bihar's West Champaran district.
Almost five decades later, a walk down this area reveals how amid shifting political loyalties, some hard economic and developmental realities remain unchanged.
Narendra Raut, who retired as a worker in the municipality, said the settlement comprised about 1,000 households living in concrete structures. He remembers the time when it was an entirely pro-Congress stronghold.
"But they did not give a ticket to our leader Jagannath Raut whose father Bhola Raut was a Congress MP," said Narendra. Prompted by this denial, the dalits made the first major political shift and supported Lalu Prasad.
"But he did nothing. The leather tannery factory in the area was closed," Narendra said.
However, after Bihar chief minister Nitish Kumar categorised them as mahadalits -- the poorest of the dalits -- which made them eligible for special schemes, they sided with the JD(U)-BJP alliance.
West Champaran is represented by Sanjay Jaiswal of the BJP, who fought as the National Democratic Alliance candidate in 2009. Barring Paswans, a majority of dalit and mahadalit communities cultivated by Nitish helped Jaiwsal win.
But after the JD(U)-BJP split last year, this time votes might get divided between Jaiswal, who has built a voter base independently, and the probable JD (U) candidate, film-maker Prakash Jha.
Laxmi, an anganwaadi worker, said, "I voted for BJP the last time." She halts for a moment, and then claims, "No. I have always been a Congress supporter."
With a smile, she adds, "Actually, no one will tell you whom they vote for." Her friend, a middle-aged woman, chips in, "Give us Rs 1,000 and we will vote for anyone you recommend," and runs off laughing.
Jagjivan Nagar is littered with small enterprises -- a tent-house, a DJ sound shop with loud music blaring from speakers, shops where old men and women make brooms and even a shop which announces itself as "theromocol specialist".
Children go to a nearby primary school. But the school is a reminder of Bihar's challenges. Under the Nitish government infrastructure improved and more girls got enrolled. But the new classrooms are already decrepit, and students often urinate here in the absence of a functional bathroom. Teachers remain absent; the mid-day meal is sporadic; children spend most of their time playing, and when they are in class, goats and dogs play alongside.
Santosh, a local dalit journalist, said, "This is our dilemma. Under Lalu, kids just stayed home because there were no schools. Under Nitish, we have schools but they lack quality. We need to take the next step."
Jagannath, denied an election ticket by the party his father had represented, said, "My father told me on his death bed never to leave the party. But I am disappointed. Congress should have gone with Nitish instead of negotiating with Lalu. Nitish is not perfect, but he has done more for mahadalits than others."
Close