Day after poll announcement, NC in Sunday mode, PDP launches attack
Updated on Oct 27, 2014 01:00 PM IST
A day after the poll announcement, the ruling National Conference (NC) preferred to be in a Sunday mode with its leaders issuing no statement. Meanwhile, the opposition People's Democratic Party (PDP) has launched a scathing attack on the NC once again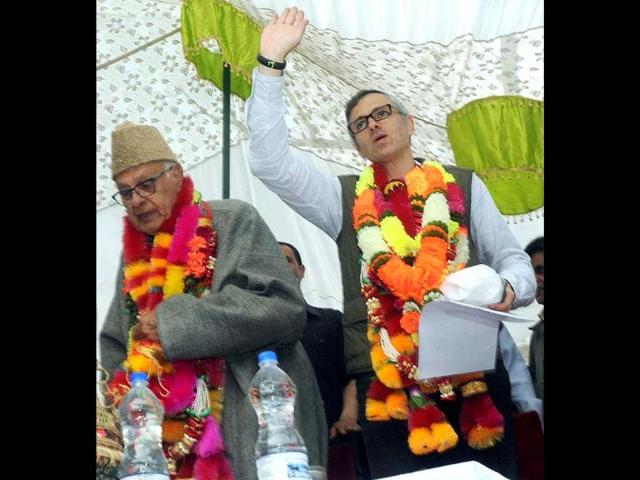 Hindustan Times |
, Srinagar
Peerzada Ashiq
A day after the poll announcement, the ruling National Conference (NC) preferred to be in a Sunday mode with its leaders issuing no statement. Meanwhile, the opposition People's Democratic Party (PDP) has launched a scathing attack on the NC once again.
"The NC government has miserably failed on every front to put the flood-affected areas of state back on gear," alleged PDP president and Member of Parliament Mehbooba Mufti, who addressed a few public gathering in north Kashmir's Pattan constituency.
The PDP seems all set to turn the floods and its aftermath a major poll plank against the ruling NC. "Unfair distribution of relief has turned out to be another misery for the already perturbed people as the undeserving people continue to plunder while the deserving ones are left at the mercy of the situation," alleged Mufti.
Mufti referred to the issue of tardy distribution of free-ration among the flood victims to take on the government. "What victims observe on the ground is the absence of the state machinery. This anarchic approach must end so that the agonised people of Jammu and Kashmir could have a sigh of relief from this turbulent regime," she said in a scathing attack at the Omar Abdullah government.
Referring to NC demand to defer polls, Mufti alleged, "The NC wanted more time in order to strengthen the process of looting the relief material. It is a known fact that the NC, Congress themselves destroyed the process of relief distribution. They stole ration, blankets, tents and ordered illegal appointments and transfers. They were doing everything since the floods hit the Valley, except the relief and rehabilitation activities".
On the contrary, there was no statement from the NC on its party activities on Sunday despite poll bugle being blown by the election commission.
The NC, which was demanding polls to be deferred, has not shown cold shoulders towards the timely polls.
"The party high command feels that though the time is not appropriate for the elections to be held in the state in view of the sufferings of the people, as the party has always been a votary of strengthening democracy and democratic values in the state it will participate in the polls," said NC general secretary Ali Mohammad Sagar on Saturday evening in response to poll announcement.
He said the party was hopeful that the people of J&K will vote for keeping in view the overall performance of state in the last six years. "People will defeat the anti-people forces who do not have the people's welfare in mind and are only looking forward to their own political rehabilitation," said Sagar, in an oblique reference to the PDP.
Personalise your news feed. Follow trending topics