Expelled MLA Binny to protest against AAP today
AAP's disciplinary committee on Sunday night took the decision to expel the Laxmi Nagar legislator after he recently accused it of deviating from the party's poll promises. Binny describes his expulsion as unfortunate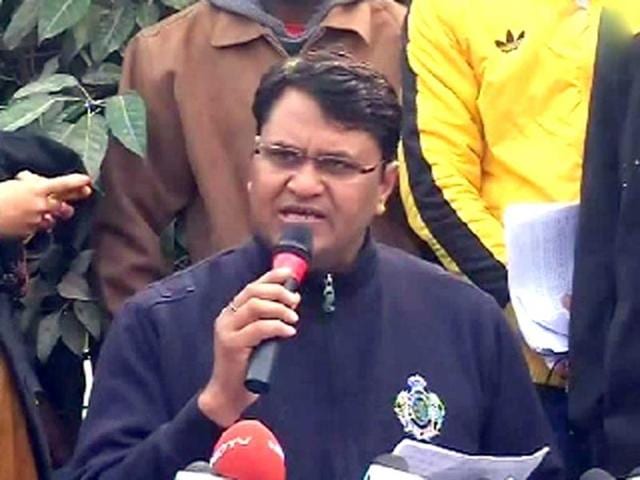 Updated on Jan 27, 2014 08:51 AM IST
Hindustan Times |
, New Delhi
Nivedita Khandekar
The Aam Aadmi Party's disciplinary committee expelled rebel MLA Vinod Kumar Binny on Sunday night, hours before his planned fast in protest against the party.

The committee — set up after Binny went public with complaints about the Delhi government's style of functioning and its "deviation from the promised agenda" — decided to terminate his primary membership. A letter to this effect has been sent to Binny, a party leader said.
Asked if this would not reduce party strength in the assembly — with just 28 seats, AAP is running a minority government with outside support from the Congress — AAP national secretary Pankaj Gupta, who headed the disciplinary panel, said, "We may face problems (in assembly) but having discipline in the party is important."
Read: Binny describes his expulsion as unfortunate

Earlier, Binny announced he was going ahead with his 'anshan dharna' at Jantar Mantar from Monday.
On January 15, the Laxmi Nagar MLA had said, "There is a lot of difference between what we promised and the way these are fulfilled."
Refuting the allegations, Kejriwal had said Binny had come to him for a ministerial post and recently, a ticket for the Lok Sabha elections and was unhappy when refused.
The AAP said on Twitter that its disciplinary committee took the decision. Binny had drawn flak for accusing the Arvind Kejriwal-led party of deviating from its poll promises.
He had also sought action against law minister Somnath Bharti, who has triggered a row after carrying out a raid to expose an alleged sex and drug racket in south Delhi.
Read: Binny meets top cop, demands action against Somnath Bharti

Binny, who defeated Congress heavyweight AK Walia in the December 2013 assembly elections, had also said the rookie party was "cheating" the people of Delhi and termed Kejriwal a "dictator".
The AAP was mulling disciplinary action against Binny, who was a part of the nine-member political affairs committee of the rookie party.
Party leader Yogendra Yadav had said Binny was making "baseless" accusations. In an interview with two TV channels, Delhi chief minister Kejriwal had termed Binny a "greedy" person.
Read: Binny calls Kejriwal an autocrat, threatens hunger strike

A Delhi University graduate, Binny had been with the Congress from 2009 to 2011. He had joined hands with Kejriwal before the formation of the AAP.
But the cracks appeared after the AAP's stellar debut in Delhi assembly elections. Binny had publicly displayed his unhappiness after failing to get a place in the newly constituted cabinet by walking out of a party meeting.

Kejriwal also alleged Binny had come to his house, seeking a ticket to contest the Lok Sabha polls from East Delhi. "We have already decided no sitting MLA will get ticket for the Lok Sabha elections," the chief minister had said.

Binny, however, had replied that he was not hungry for power and wanted to raise key issues in public interest.
(With agencies inputs)
Close Story