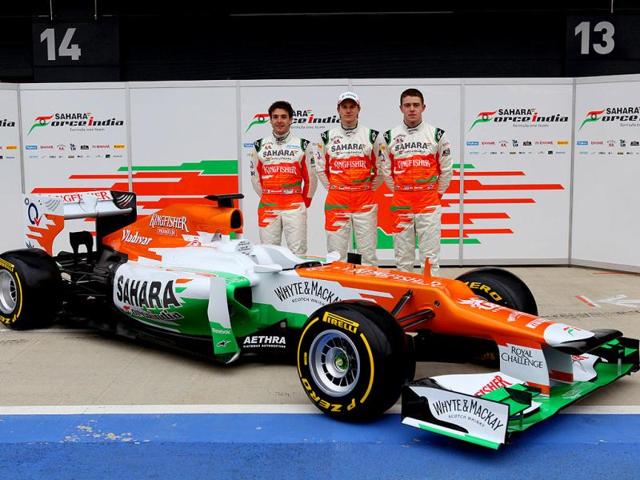 Force India unveils the new VJM05
Aiming a fifth-place finish in the 2012 season, Sahara Force India on Friday unveiled its new car — VJM05, which the team says is more refined and fast. HT reports.
UPDATED ON FEB 03, 2012 11:57 PM IST
Sahara Force India unveiled its 2012 Formula One world championship challenger on Friday as Paul Di Resta and Nico Hulkenberg pulled the covers off the VJM05 at Silverstone. They were joined by reserve driver, Jules Bianchi, as the team's new car was presented for the first time.
The VJM05 is the second car to be created under the watch of Technical Director, Andrew Green, as the team seeks to build on its on its sixth place finish in the constructors' championship and take the fight to the teams that lie ahead.
The car features the same drastically stepped nose section as seen on the Ferrari F2012 that was also launched on the very same day. It will be powered by Mercedes-Benz's 2.4-litre, V-8 engine.
"We have set our sights on challenging for fifth place," explained team principal and managing director, Vijay Mallya in a press release. "To do so we will need to begin the new campaign by delivering the kind of form we showed in the second half of 2011. I believe this is a realistic goal and that we have the talent and determination to realise these ambitions."
Both Di Resta and Hulkenberg will be in their second year as F1 drivers. The former was a test and reserve driver for Force India in 2010 while Hulkenberg performed the same role last year.
Close