From an activist to CPI-M general secretary: Sitaram Yechury's journey
One of the most recognisable faces of the CPI-M, Sitaram Yechury has the image of being a pragmatic leader unlike his predecessor Prakash Karat, who was a stickler to dogma.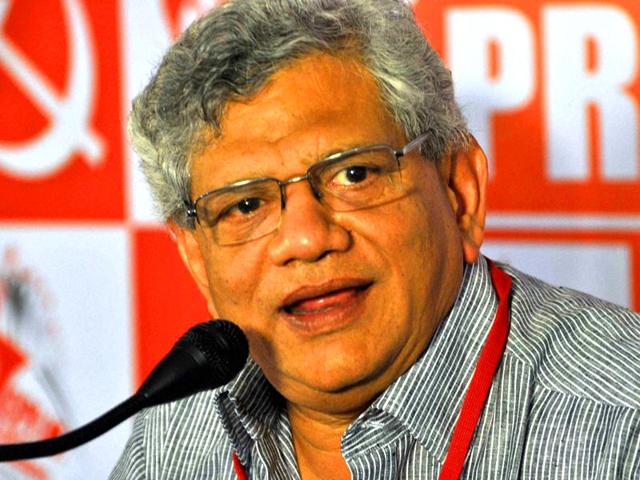 Updated on Apr 19, 2015 10:09 PM IST
Not so long ago, his neighbours in Delhi's parched Vasant Kunj could see Sitaram Yechury, with buckets in hand, standing in the queue for water-tanker.
He also had a Delhi metro card. "Arre, my mother is here and she is driving my car," Yechury would say, explaining why he was travelling in Delhi metro.
A staunch loyalist of Harkishan Singh Surjeet and Jyoti Basu, Yechury has been long admired both in his party and outside for his humble nature, pragmatism, multilingual oratory skills and liberal outlook topped with sharp wit.
Born in 1952, Yechury had to leave his studies midway in Nizam College in Hyderabad due to mulki non-mulki agitation and come to Delhi. He did his post graduation from Jawaharlal Nehru University (JNU) in economics with a first class. It was in the JNU that he became friends with Prakash Karat, his senior. He became president of the university's student's union defeating Anand kumar (now AAP rebel).
"Sitaram has the capacity to communicate to people even outside our political realms. His exposure to international matters and economics back ground also helps him," said Nilotpal Basu, CPI-M's central committee member.
A prolific writer, his Wednesdays are generally devoted in writing the editorial for People's Democracy—the party mouthpiece he's editing for over a decade. Yechury is currently serving his second term in Rajya Sabha and represents West Bengal.
The fifth general secretary of the 50-year-old party had earlier headed its student's wing SFI and got elected to the Central Committee in 1985. In 1992, he entered the coveted politburo.
While Prakash Karat is seen as a more reserved person, Yechury doesn't need much time to open up. When US President Barack Obama came to India for the first time in 2010, Yechury was invited for a banquet in his honour. Yechury introduced himself, saying, "Here, communists are in the political mainstream and that's the reason, I'm here this evening."
Many years ago, a young Yechury had accompanied four stalwarts—Surjeet, Basu, P Rammurthy and M Basabpunnaiah to China. At the breakfast table on the first day, he spoke to Surjeet in Hindi, Basu in Bengali, addressed Rammurthy in Tamil and conversed in Telugu with Basabpunnaiah.
Next day, as Yechury started talking to Surjeet, Basu cut him short, saying, "this man (Yechury) is dangerous." As shiver ran down Yechury's spine, Basu explained, "He is talking in four different languages. and although we are sitting here, none of us can understand what he is saying to others!"
Yechury has a tough task in hand: to revive the CPI-M and change the way it functions. But one thing is likely to change very soon—along with Che Guevara and Surjeet's photo, a portrait of Basu may adorn the walls of general secretary's room.
Read: Sitaram Yechury unanimously elected new general secretary of CPI-M
Close Story
Personalise your news feed. Follow trending topics