Nothing unethical about forming govt in Delhi with Cong: Kejriwal
Aam Aadmi Party leader Arvind Kejriwal said on Friday that whether or not his party forms a government in Delhi was a political question now, reiterating that the rookie party would announce its decision on Monday.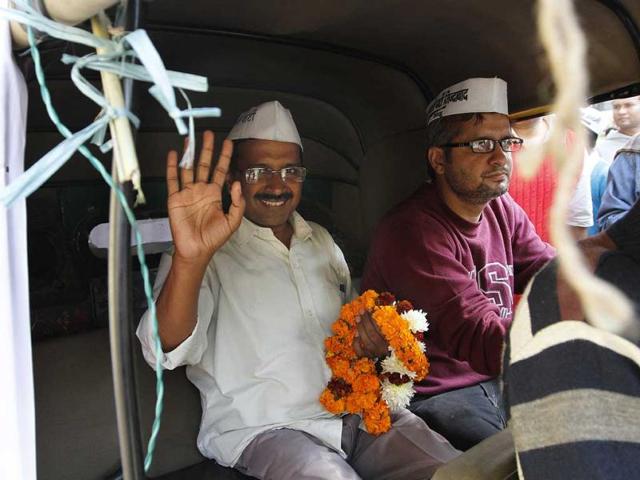 Updated on Dec 21, 2013 11:46 AM IST
Hindustan Times |
, New Delhi
Nivedita Khandekar
Arvind Kejriwal said on Friday that there was nothing unethical about the Aam Aadmi Party (AAP) forming the government in Delhi, and reiterated that the rookie party would announce its decision on Monday after hearing from the people of the city.
In an apparent reference to the BJP's remarks about AAP taking Congress support to form government, Kejriwal told HT, "It is a political question now… whether or not we form government … there is nothing unethical about it now."
After the BJP, with 32 seats, declined to take power, lieutenant governor Najeeb Jung invited AAP (28 seats). Kejriwal met the L-G and on Tuesday said his party would reach out to Delhiites through SMS/phone/internet and conduct jan sabhas in all 272 wards over the weekend to get their feedback on taking Congress support.
Read: BJP smells 'unholy alliance' in extra time to AAP
"This is the first time people are being asked their opinions. Our feedback says people feel empowered, this is our way of strengthening democracy," he said, adding that there was overwhelming online response but refusing to reveal the trend.
He also said that if the AAP goes on to form the government, it will continue to hold such referendums on critical decisions every once in a while, but "within the four corners of the law and of the Constitution".
The Congress, on its part, expressed disappointment with the "tone and tenor" of AAP leaders, who continued to criticise its policies. There was even talk of the Congress withdrawing its offer of support, but sources said the central leadership would not go back on its commitment.
Newly-appointed Delhi Congress chief Arvinder Singh Lovely has warned AAP leaders to check their language and not test his party's patience, the sources said.
Read: People want our government in Delhi: Manish Sisodia

"Dominant sections within the Delhi unit are putting pressure on the central leadership. These sections, owing allegiance to caretaker chief minister Sheila Dikshit and former Delhi unit president JP Agarwal, have lately been arguing that the party should not go ahead with its commitment at the cost of its self-respect," they said.
An unperturbed Kejriwal said the Congress and BJP were together in the defamatory campaign against AAP, raising questions about its ability to form and run a government. "It is the aam aadmi (common man) who earns his bread, who makes cloth and builds houses. It was the aam aadmi who went to the moon. Governing and governance are no big deal, he can even do it and better."
Kejriwal also denied his party was using Delhi as a platform to go national but said, "We fought the assembly elections here to weed out corruption and we will fight other assembly elections too." Irrespective of the outcome of the referendum on Monday, AAP plans to contest the 2014 Lok Sabha elections, he added.
Read: Promises to keep: why AAP must form govt in Delhi
(Inputs from Aurangzeb Naqshbandi)
Close Story