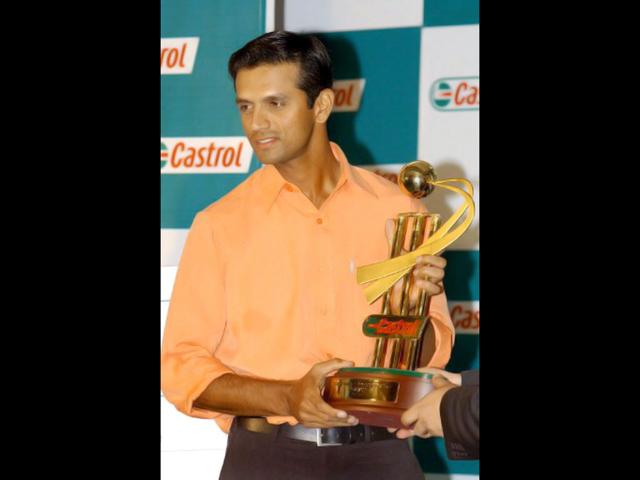 Reliably yours
Stalwart Rahul Dravid took his cricket, not himself, seriously. With Mr Dependable hanging up his pads, Rohit Brijnath reminds us how for nearly 17 years, he taught us that reassurance is a gift. Rohit Brijnath writes. More tributes
Hindustan Times | By Rohit Brijnath
UPDATED ON MAR 11, 2012 01:51 AM IST
At the core of the great athlete often resides a self-centred animal. Lit up by the spotlight, the rest of the world falls into his shadow. Once, a former cricketer, his nationality irrelevant, dined at my house and was staggeringly oblivious to my other guests. He was prepared to be questioned, he simply did not have any for them. As if they were the distant, faceless crowd in a tiny stadium.
It is here, for me, that Rahul Dravid found his point of difference. Life intrigued him, even yours. When he once came to Singapore, he charmed my friends (one gave him batting advice; he smiled). What are you reading, he'd ask. What do you think, he'd query. Not about cricket, but tennis, toughness, politics. He'd linger in bookshops, stroll into theatres, sit in wildlife parks. One year he opted to go and learn from a visual skills specialist in South Africa; last summer, he drove to Chelsea FC to wander through their Mind Room. From his wide interests emerged cricket's most interesting man.
He wore polished shoes but never an aura. In a world of Gods, he preferred his humanness, an unadorned man battling his own imperfections with a low-key dignity. He was forever conscious of the families he represented (his own, the team, the fans, the game at large) and owned an authentic decency we crave in athletes but rarely find.
My mother is not given at all to cricket watching, yet sent me a mail after his retirement press conference which included the words "poised", "grace", "dignity". If the old-fashioned among us have a quaint notion of what the athlete should represent, then he met it for us. Greatness can be worn gently, a man can stay true for 16 years to the idea that desire and sportsmanship, ambition and etiquette, are not virtues in conflict. We needed this reminder that even amidst the over-indulgence and over-worship of modern sport a man need not lose himself.
Dravid was precocious that way, always the grown-up cricketer. He had a conscience and in a way became ours. There is for me an irony in the mourning for him in a time of Virat Kohli worship. Perhaps we realise what we are losing, perhaps the time of such men has passed. He was teased recently that it was fortunate he was not 22 for he would be a misfit: Dravid with his hair jelled, a tattoo of his wife Vijeeta on his forearm, retinue in tow, snarling, is an image both amusing and obscene.
Dravid took cricket seriously but not always himself. Or you. During the 1999 World Cup, on watching me take a few casual swipes with his bat, he fell off his hotel bed laughing and offered this advice: "Please, don't ever write about technique". His batting could be classical, yet he never viewed himself as the classical hero. As he said: "My only qualification is that I come on television more than a nurse or a soldier or a teacher.
Anyway, I don't think sportsmen can really be considered heroes." Indeed, in the evening after his retirement press conference, he suggested with amusement that his immediate future included "practicing my new sweep shot with a broom".
I met him first in 1996, a slim young man, shirt tucked in, hair parted, and his method on the field would be as fastidious. He saw the cages of the practice nets as his university and studied there like a man pursuing a degree he might never earn. There, and on the field, it was the discovery of himself, this uniquely private moment, which he most relished. For him, and you'd groan when he repeated his favourite word, it was about the "process".
There were many batsmen in Rahul Dravid. The worst one once found him the most applause. In some forgotten one-dayer, he smashed a quick fifty (these very words must make him shiver) and he joked that he received more handshakes for it than anything before. Of course, he could be a picture of balanced harmony, his shots all refined architecture, and this was becoming. But the cussed Dravid, a man of team cause not crowd, was my favourite, playing to his own scholarly sheet music.
Laxman offered me art, Sehwag liberation, Tendulkar consistent genius, but Dravid taught us that reassurance is a gift. For such a neat man, he loved an ugly scrap. Runs might emerge in unsightly dribbles — sometimes it was as if to be uninhibited was an act of immodesty for him — but he'd keep going, a leave, a block, a block, a leave, and this should have been boring — and well, yes, sometimes it was — except by the end he'd built a lead, or rescued a situation, or offered us a winning chance and you'd look at this man, shirt bound by sweat, ferocious in his concentration, and just think, bloody hell. Struggle, in all its forms, was his hymn.
And so even as he spoke easily with journalists, his finest conversations were his internal dialogues, which on request he would articulate. After his brilliant match-winning innings in Adelaide 2003, he said: "You can't concentrate for 10 hours, you switch on and off, you push yourself, your mind wanders, you bring it back, you steel yourself. That's the real beauty, when you win the battle against yourself." And he wanted to win, and while he took defeat manfully he also did so painfully. On the night after India had exited the 2007 World Cup under his captaincy, on the phone he sounded as if he was dying.
I liked him for this and for his willingness to discuss his own and sufficient imperfections. Because he wouldn't flinch from honesty and you could challenge him on his thinking as captain or get him to laugh at his own unhurriedness. Because he understood talent is only lent to you for a while and that only ceaseless industry can allow for its consistent expression. Because he has a strong sense of himself, for even as kind bloggers would call him "unsung", he'd say, no, enough has been sung about me.
Who he was more than just a cricketer and it was evident in our last meeting in October last year. He had been invited to a discussion on the sporting mind to inaugurate the Bangalore launch of Olympic shooting gold medallist Abhinav Bindra's autobiography.
"No speech, right?" he insisted, for that would mean a month's dutiful hard labour for him. No, I promised. Only a discussion.
Except on launch day, in the evening, he took me aside. "I'd like to make a short speech, is that OK?"
And so he did, a charming, generous introduction about Bindra and his virtues and the challenge of the Olympics. He is 10 years older than the shooter and far more celebrated, but this was not his moment, he wanted the shooter to have the sun and being in the shadows anyway held no fear for him. It was not Dravid at his best, it was simply just Dravid being himself.
(Rohit Brijnath is a senior correspondent with The Straits Times, Singapore.)

Close