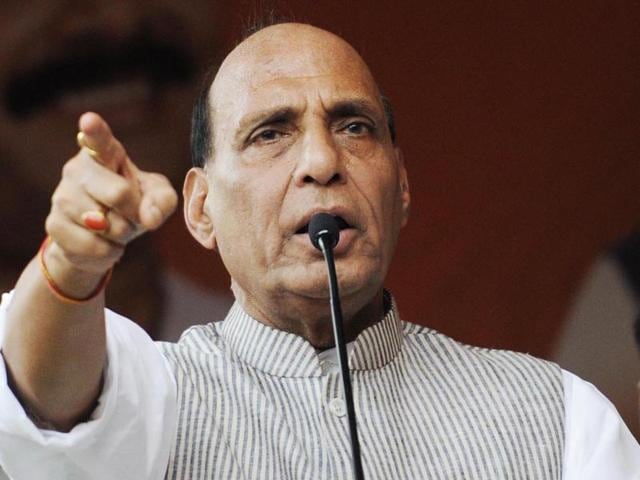 UPA govt coined term 'Hindu terror', hurt India: Rajnath
The term "Hindu terrorists" coined by then UPA government weakened India's stand on terrorism because they have no religion or caste, home minister Rajnath Singh said on Friday, days after an attack by suspected Pakistani infiltrators in Punjab's Gurdaspur district.
UPDATED ON AUG 01, 2015 03:13 AM IST
The Lok Sabha witnessed yet another day of Opposition protests, this time over Union home minister Rajnath Singh's remarks accusing the previous UPA government of weakening the fight against terrorism by coining the phrase "Hindu terror". Hitting back, the Congress said Singh was indulging in "divisive politics".
The main opposition party later agreed to a debate on terror on the condition that Prime Minister Narendra Modi reply on behalf of the government.
Proceedings on Friday began on a hopeful note with the Congress suspending protests and retreating from the well of the House to let Singh make a statement on the recent Gurdaspur attack.
Several Opposition MPs even thumped their desks when Singh said the government was committed to fighting terrorism. The show of bonhomie was, however, short-lived as Congress MPs resumed protests, demanding more details from the home minister.
Amid the din, Singh said he would answer all questions but accused the Opposition of portraying a disunited front against terrorism. He then accused the Congress of giving the issue a "communal colour". "I want to remind the house that the former home minister (Sushil Kumar Shinde) in the previous UPA government in 2013 devised a new terminology for terror -- Hindu terrorism -- so that the direction of investigation can be changed and fight against terrorism gets weakened."
He then began underlining Congress' alleged blunders recalling the Indo-Pak joint statement at Sharm-el Sheikh in Egypt which mentioned the Balochistan issue and the talks in Cuban capital Havana where both nations agreed on a joint anti-terror mechanism which eventually failed to take off. Singh said even LeT chief Hafiz Sayeed had lauded the then government's stand on terror.
Angry Congress MPs demanded that party leader Mallikarjuna Kharge be allowed to reply to Singh's charges but Speaker Sumitra Mahajan refused to allow counter questions. She also did not respond to Kharge's point of order and adjourned the House.
When the Lok Sabha resumed an hour and a half later, Deputy Speaker M Thambidurai allowed Kharge to speak who then accused Singh of playing "divisive politics" over terrorism. "We allowed him (Singh) to speak and even clapped to show that the country is one and there is no compromise on terrorism," Kharge said, refuting the home minster's charge of putting up a disunited front before the world.
Kharge demanded that the home minister's remarks made after his written statement be expunged but the deputy Speaker turned down the demand.
Congress MPs received support from Trinamool Congress counterparts whose leader Saugata Roy wondered why Singh was allowed to continue with a "rampaging speech" that was not circulated to the members as per House rules.
Senior Congress leader Anand Sharma later said terrorism has no religion or caste. "The BJP and RSS have constantly been trying to link terrorism with religion and caste. This raises questions on India's secularism. The fact is that people belonging to different religions are involved in terrorist activities. You cannot say terrorists from across the border are bad and those from within the country are good. It is the duty of the government to take strong action against terrorists irrespective of the religion they belong to," he said.
Read

Evidence suggests Gurdaspur attackers came from Pak: Rajnath
Will give befitting reply if hit: Rajnath after Gurdaspur attack
Close