Good Shepherd: Dalit thinker Kancha Ilaiah on name, caste
Hindustan Times |
, Hyderabad
Sudipto Mondal
May 27, 2016 01:55 PM IST
Kancha Ilaiah, one of India's most prominent Dalit thinkers and author of Why I am not a Hindu, has come under attack for allegedly calling Brahmins "lazy" and "gluttons".
Kancha Ilaiah, one of India's most prominent Dalit thinkers and author of Why I am not a Hindu, has come under attack for allegedly calling Brahmins "lazy" and "gluttons".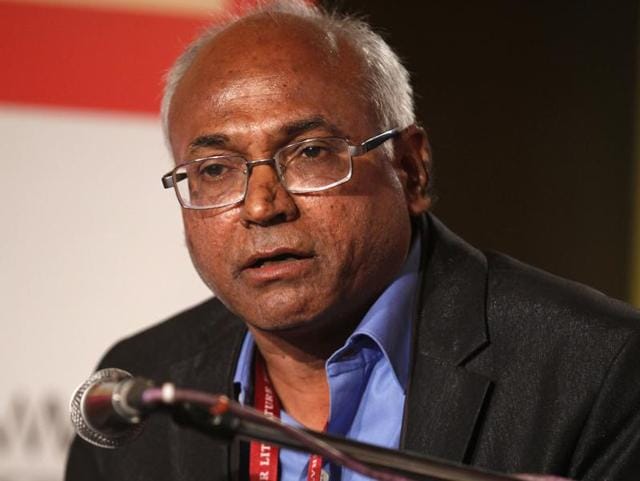 Ilaiah, who says he has changed his name to Kancha Ilaiah Shepherd, was repeatedly threatened and insulted – on the phone, social media, the streets and in TV studios – after he delivered a lecture at the Centre of Indian Trade Unions (CITU) conference in Vijayawada.
When Hindustan Times last met him on May 16, two television crews and a large, angry group from a state-level Brahmin association were camped outside his chamber at the Maulana Azad National Urdu University in Hyderabad.
They all wanted to know why he had called Brahmins 'lazy and gluttonous', with the ringing landline phone repeatedly interrupting the commotion of a dozen people shouting.
"Who is calling? Are you a terrorist? Can you at least tell me which terrorist organisation you belong to?" he asked an anonymous caller before turning to the men crowding his office; "No, I did not call brahmins lazy or gluttonous."
But things only got worse.
The professor says he changed his name to highlight his caste's productive capability – as a shepherd – and break away from the oppressiveness of caste-based hierarchies.
But that hasn't dampened the attacks.
Prof Shepherd, as he now likes to be known, tells Hindustan Times he is facing the "most significant" attack on his scholarship.
The episode is eerily reminiscent of the campaign against Perumal Murugan, who swore off writing after right-wing controversy and intimidation over his book last year.
Q: What happened?
On May 14, I was invited to deliver a lecture at Vijayawada by the Centre for Indian Trade Unions (CITU). I spoke on the origins of labour and the history of production in India. There I said that the organised labour of the Adivasis and the Dravidians started in the Indus Valley civilisation. They transformed mud into bricks, wood into houses and furniture. They built intricate canals and drainage systems.
This advancement continued till the Aryan invasion and Vedic writing started. Slowly, as the Vedas grew in influence, labour became delegitimised. And in the realm of God, those who do labour work started getting called Chandalas, Shudras and anti-God.
This entire anti-labour theory was built by Brahmin writers later the priests who organised the Vedic religion. This continued till the 6th century BC until Buddha burst on the scene and propagated Sramana philosophy that encouraged hard labour as the duty of every human. The Sramana culture continued until the counter-revolution of the Shakracharya that destroyed Buddhism in large parts of India. Muslim and later Christian rulers interrupted this Vedic reign until independence. And since independence, the Brahmin hegemony has continued.
The critical point I made in my lecture is that historically Brahmins never participated in any production. But a newspaper twisted my point the next day and wrongly quoted me as saying 'Brahmins are lazy and gluttonous'.
Read: Rohith Vemula, death of a philosopher to purify higher education
Q: Your house was ransacked in 2010. Right-wing groups have been targeting you for several years now. How is this different?
In the past, I was targeted only by lowered-caste members of organisations headed by Brahmins such as the RSS and the VHP. This is the first time that Brahmins have come out in the open to target me. They have been emboldened by the support they have received from both the Telangana and the Andhra governments.
After coming to power both K Chandrasekhar Rao and Chandrababu Naidu have allocated Rs. 100 crore each for the welfare of Brahmins. Headed by retired IAS officers from the Brahmin caste, welfare corporations have been started for the community.
They used an image of Parasurama, with a large axe on his shoulder, as their icon. By showing the axe, they are trying to threaten somebody. This is really scary for Dalit Bahujans and minorities because these groups are state-sponsored.
Q: What kind of threats have you received this time?
On May 16, I got a call from somebody saying they are representatives of IYR Krishna Rao, the former chief secretary of Andhra Pradesh (and the present chairman of the Andhra Brahmin Welfare Association). The same man had made a public statement the previous day that I should be punished for my statement at the CITU conference. His statement triggered hysteria, my effigies were burnt. Somebody put up my office number on Facebook and abusive calls started pouring in.
I asked them for statistics to show how Brahmins had contributed to production. How many of them are employed as cobblers, potters, construction workers, agricultural labourers, sanitation workers? How many of them are registered under the NGREGA programme? I argued that we live in a society where people who turn mud into food are called muddy people and considered inferior. How will the country progress like this? Not only did they turn the debate into a shouting match, they went out of my room and told the media that I had apologised for my statement. Why would I apologise for a statement i never made? From this, it is clear that they are trying to provoke people against me.
Q: But how did this lead to the change in your name?
I have explained this in my poem. By changing my name I am owning up to my ancestry. My caste, the shepherds, is called by different names in different parts of the country; Kurubas in Karnataka, in Telangana they are Kurumas. Whereas Brahmins have their names in a Sanskritic, pan-Indian forms such as Sharma and Shastri.
But we could not get a pan-Indian name in the Sanskritic tradition or in any language derived from it. Now, I have adopted English as the language to identify my ancestry. When I take on a name that symbolises my productive capacity, I am getting out of the caste system. I am taking pride in my productive contribution.
I am a shepherd and my job is to look after sheep. You know, the image of God as a shepherd is popular in many cultures. Why is this? It is because a shepherd treats every individual in his flock equally. I am a follower of that democratic and powerful Shepherd God. Because of the Vedic, anti-labour philosophy, our people have never been able to see the power of a good and inclusive God.
I call upon all SC/ST, OBC people to adopt their caste occupations as their surnames in English. Potter, Butcher, Tanner, Cobbler, Tiller, Gardner. So you have an all-India name which incidentally connects to the rest of the globalised world.
Q: Why do we need a new God?
Because the Constitution protects only our political democracy and has no influence over spiritual matters. Things will not change unless we campaign in a big way for spiritual democracy. Gautam Buddha did this. Jesus and Prophet Muhammad, who came later, did the same thing.
I have now realised, in my 64th year, that God is not regional or national. God is universal. God is now active in the world and is working toward creating oneness, including in language. Once upon a time, Greek and Latin were considered God's language. In Israel, Hebrew was considered God's language. In West Asia, it was Arabic and in South Asia it was Sanskrit. My feeling is now English has become God's language. This language is reforming religions and taking God to the people.
Dalits, Adivasis and backward classes have to start learning English in a big way. They need to adopt universal identities such as Potter, Shepherd, Weaver and Sweeper. This way, they will be able to connect to international sub-populations that have been excluded.
Read: If Sardar Patel was PM, India would've become Pakistan: Kancha Ilaiah