Class 12 result: Girls leave boys behind
Girls outshone boys once again in the Class 12 Science and Commerce results announced by the Board of Secondary Education, Rajasthan, on Friday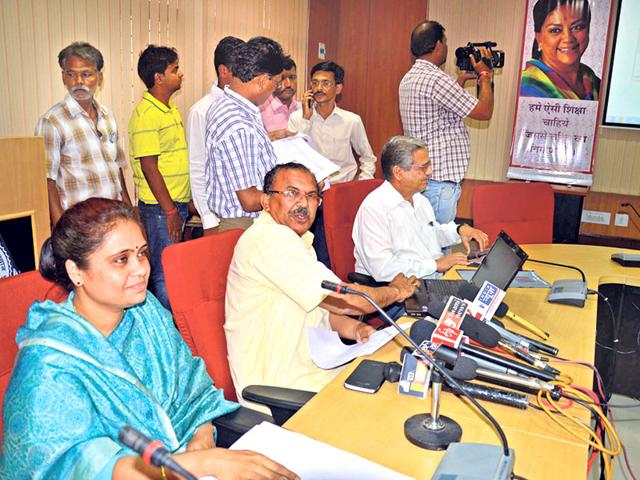 Updated on May 23, 2015 05:16 PM IST
Girls outshone boys once again in the Class 12 Science and Commerce results announced by the Board of Secondary Education, Rajasthan, on Friday.
The overall pass percentage in science was 86.4%. While the pass percentage for girls was 90.33% and 85.09% boys were declared successful in the stream.
Similarly, in commerce the overall pass percentage was 85.20 with 91.38% girls and 82.33% boys declared successful.
In science, 58 students shared the top-10 merit positions. Gunjan Arora of Sharda Senior Secondary School of Nagaur and Kuldeep Singh Naruka of Shishu Bharti School of Udaipur shared the first position scoring 490/500 (98 percent) marks.
Six students - Pooja Joshi, Divyanshu Bansal, Devesh Joshi, Saurav Gautam, Aanand Ramkathiyani and Gurav Kabra - shared the second position scoring 488/500 (97.60%) marks.
Only one student from government schools could find a place in the merit list. Yamini Verma of Govt Senior Secondary School, Gandhi Nagar, Jaipur, got the 10th place in the merit list.
Rajat Goyal of Creative Public School, Gangapur City (Sawai Madhopur), topped in Commerce stream with 487/500 (97.4 percent) marks. Gautam Indoria (Churu) and Happy Salecha (Balotra, Barmer) with 480 and 474 out of 500 marks got the second and third positions respectively.
Speaking on the occasion, minister of state for education Vasudev Devnani, who announced the results at the board office, said, "The kind of success achieved by our daughters has proved beyond doubts that if given adequate chances, they can bring more laurels to their parents than boys."
I feel like a celebrity now, says Gunjan Arora
Jaipur: When Gunjan Arora learnt she had topped the science stream in the class 12 results announced by the state Board of Secondary Education examinations on Friday, she burst into tears.
Gunjan, who hails from Nagaur, was vacationing at her maternal grandmother's house in Jodhpur and didn't know she had topped the state board with 98% until her father called her. "My father said I had topped. I burst into tears. I was overwhelmed," Gunjan told HT. Her father Vijay Arora is an economics teacher in a government school in Nagaur.
Gunajn said she had never expected to top the examinations. "My exams went well, but I was apprehensive as my language is not very strong." She thanked her parents and teachers at the Sharda Balika Niketan in Nagaur for their support.
There was a rush of relatives and media persons at her home after the results were announced. "I feel like a celebrity. There's been a rush of people." Gunjan said, as she leaving for her home in Nagaur.
Gunjan said she studied 5-6 hours daily and revised all schoolwork regularly. But she was not all studies and no play. "The cricket World Cup was on during the exams and I watched all the matches. I'm a cricket buff," she said.
Gunjan wants to prepare for the IIT entrance and said she will drop a year and focus on preparing for the exam.
Kuldeep's hard work paid off, says father
Udaipur: The family of Kuldeep Singh Naruka was in a celebratory mood after coming to know that he was declared a joint topper in the Class 12 science results announced by the state Board of Secondary Education on Friday. Kuldeep scored 98% in the examinations.
"We never had to tell Kuldeep to study, as he always followed his schedule of giving 4 hours to his studies in a day. We never expected he would top," said Mahaveer Singh, Kuldeep's father, as the topper was in Jaipur to appear for an entrance exam for BITS Pilani.
Kuldeep, his only son, completed schooling from Shishu Bharti School of the city.
"Kuldeep has always been an above average student and topped his class from class Nursery to 12," said the proud father, who works as a manager in a private firm.
He said when he called his son to tell him the result, Kuldeep was surprised and thrilled. "He had not expected to top. But his hard work paid off," said Singh.
Though I worked very hard, the result was a big surprise, says Rajat Goyal
Jaipur: For Rajat Goyal, who topped the Class 12 commerce stream results announced by the state Board of Secondary Education on Friday, the outcome was on expected lines.
"I am on cloud nine. I wouldn't say I hadn't expected this result, as I worked really hard. It was a big surprise," said Rajat, who hails from Gangapur City (Sawai Madhupur).
Rajat, who opted for self-study and didn't take any tuition or coaching, said he wanted to become a lawyer one day. Son of Rajesh Goyal, a businessman, Rajat credited his success to his teachers and parents. "I owe my success to my school teachers and my parents, who taught me how to focus on my goals and made sure I concentrated on my studies."
Goyal said though he did not miss on entertainment, he also worked hard to reach his goals.
"I would play cricket and watch TV regularly. But at the same time I made sure to study for 10-11 hours a day. I religiously revised all the lessons taught at school and would approach my teachers in case of any doubt."
Close Story
Personalise your news feed. Follow trending topics