CM Raje calls for monitoring of social media activities
Jul 24, 2015 04:30 PM IST
With an aim to curb misuse of social media platforms to flare up petty issue, chief minister Vasundhara Raje on Thursday stressed on the need to form a cell to keep an eye on such activities
With an aim to curb misuse of social media platforms to flare up petty issue, chief minister Vasundhara Raje on Thursday stressed on the need to form a cell to keep an eye on such activities.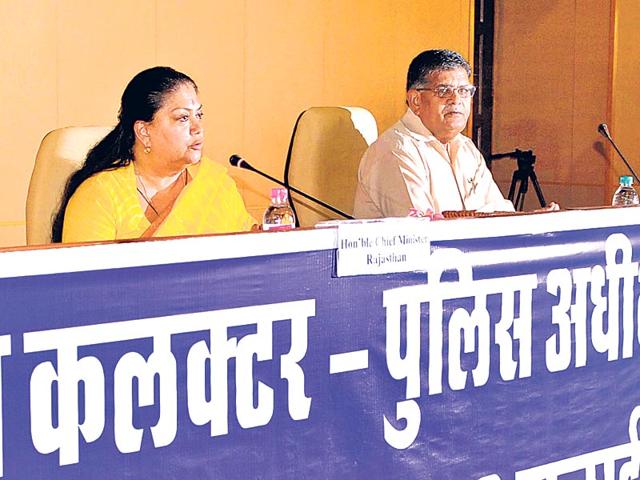 Addressing the superintendents of police on second day of the four-day collector-SP conference at her office on Thursday, Raje said posts on social media often led to communal tensions and law and order problem.
She said small incidents could be contained from attaining grave proportions if they were assessed well on time. "SPs should pay special attention (so) that tussle between two persons or personal issue did not take shape of communal tension. It is important to contain such situations on time," she said. The SPs of all 33 districts were present in the conference.
Stressing on need of 'zero tolerance' towards crime and criminals, Raje said strict action should be initiated against those who break law, but there should be "sensitive attitude towards those who follow the law."
The CM also exhorted the officers to keep in touch with their counterparts in neighbouring states so that important information could be shared.
The SPs of districts at international border should have regular interaction with BSF and Army officials and share intelligence inputs, the CM said. She also asked the SPs to remain present in the district vigilance committee meetings and that home secretary to personally monitor it.
Raje asked officers to respond to calls and letters from the elected public representatives so that works of public welfare were not affected. "Call them back in case you could not pick up (their) call. Action will be taken on officials behaving rudely with public representatives and complainants," she said.
The CM hailed home department and police officials for effective policing and maintaining law and order during Gurjar agitation.
Drop in crime against women: Kataria
Presenting the crime statistics on Thursday, home minister Gulab Chand Kataria said there has been "phenomenal drop in crime against women, SC/STs, and backward classes."
He said in 2012-13 the crime rate had increased to 14.7%, which dropped to 7.2% between 2013 and 2015.