Father had no money for education, this Rajasthan girl turned into 'milkmaid' to fund studies
Hindustan Times |
, Bharatpur
Suresh Foujdar
Aug 17, 2017 08:43 PM IST
Every morning, 19-year-old Neetu Sharma gets up at 4 am. She collects milk from houses in Bhandor Khurd village and brings that to Bharatpur city on a motorcycle. From 6.30 am, she goes from door to door in the city to deliver milk
Every morning, 19-year-old Neetu Sharma gets up at 4 am. She collects milk from houses in Bhandor Khurd village and brings that to Bharatpur city on a motorcycle. From 6.30 am, she goes from door to door in the city to deliver milk.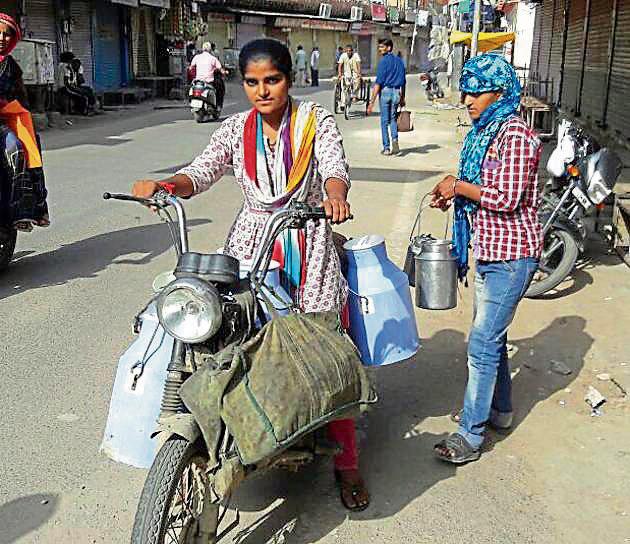 Her elder sister, Sushma, dropped out of school to help her in milk delivery. She sits pillion on Neetu's bike, balancing herself between milk cans.
After she was done with delivering milk, Neetu parks the bike at a relative's house, changes her clothes and goes for the two-hour computer classes by Rajasthan State Certificate Course in Information Technology that begins at 10 am.
Sushma waits at the relative's house for her to return. The two are back in the village around 1 pm. At 5 pm, the two are back in the city with milk for the evening delivery. They return home around 7.30 pm.
Neetu began doing this when she passed class 8 and her father asked her to discontinue her education. "We don't have money for your education," Sushma's father Banwari Lal Sharma told her.
But Neetu wanted to study further to become a schoolteacher. She began by carrying milk on her shoulders and walking to the city, 5 km away, for delivery.
She made ₹5 for every litre sold. The eldest sister, who is a post-graduate in Sanskrit, opened a grocery store in the village. The two pooled savings to buy a motorcycle.
Now, Neetu brings 60 litres in the morning and 30 litres in the evening to the city and makes around ₹12,000 a month after discounting the expenses on fuel etc.
She funded her education. She's now in second year of BA course as a private candidate because she cannot attend college regularly.
She passed class 10 from Government Senior Secondary School in Maharajsar with 56% mark and class 12 from the same institution 58%. After being a graduate, she plans to pursue Bachelor of Education to realise her dream of becoming a teacher.
"I think there's nothing that a girl cannot do. When I began riding a bike, people in the village mocked me. My father dissuaded me from doing what I do. 'It's not right for the girls to roam around like this,' he said, but I was determined to continue my education and find funds for it," said Neetu.
"I have told my father I will stop doing this after the wedding of my two sisters, Radha and Sushma," she said.
Among the five sisters, two are married, the third one, Radha, sits at the grocery store, the fourth, Sushma, helps Neetu, the youngest, in milk business. They also have a brother, younger to Neetu, who is in class 10.