Rajasthan plans to sell camel milk through 'Saras' counters
Research has proved that camel milk's helps cure diseases such as diabetes, autism, cancer and heart problems.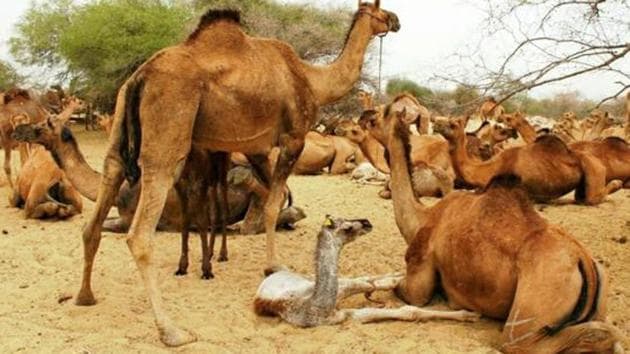 Updated on Dec 24, 2017 08:36 PM IST
Hindustan Times | By Aabshar H Quazi
, Kota
The state government is planning to sell packaged camel milk through 'Saras' counters of the Rajasthan Cooperative Dairy Federation (RCDF) from next month.
"A proposal worth ₹7 crore has been sent to the government, whereby a camel milk dairy plant will be set up at Jaipur of around 5,000 to 7,000-litre capacity, where camel breeders will be able to sell their milk," said Gordhan Rainka, the chairman of Pashupalan Kalyan Board, who holds the state minister's rank.
Also, bulk milk coolers (BMC) will be established at all seven divisional headquarters including Kota, Ajmer, Jodhpur and Bharatpur, where camel milk sold by cattle breeders will be refrigerated.
The packaged camel milk will be sold through Saras booths, while the additional camel milk will be sent to the Jaipur Dairy plant for sale, Rainka said.
Only refrigeration is required for the sale of packaged camel milk.
"Once government approves the proposal, it will not take much time to start the dairy plant and BMC," Rainka said. He said there is also a plan to start the camel milk sale at district headquarters.
The Pashupalan Kalyan Board chief said that researches have proved camel milk's health benefits and its utility to cure many diseases such as diabetes, autism, cancer and heart problem. "Since camel milk does not have fat and it is a salted milk, it has tremendous health benefits," he added.
Over the pricing issue, Rainka said that presently private dairies in Jaipur are selling camel milk at ₹150 to ₹200 per litre, but the government will sell it at affordable prices. "The cost of camel milk will be such that it benefits both the camel breeders as well as the consumers," he said.
He said that chief minister Vasundhara Raje is "very much" interested in the camel milk project. "Presently, we will establish camel dairy plant at the existing Saras dairy plant, but later seek additional land, he said.
Close Story