Students to learn vector control as part of health department efforts to curb seasonal diseases
Health department has also asked for cooperation from all departments to strop the spread of such diseases.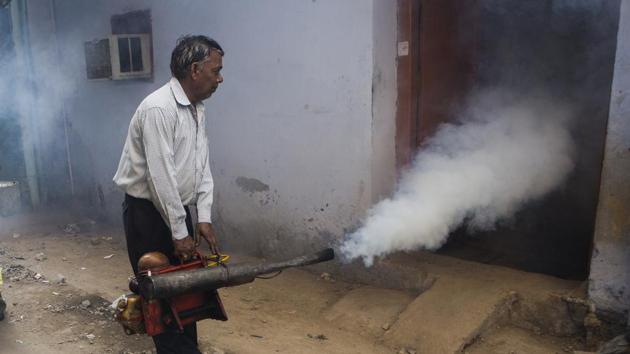 Updated on Jul 18, 2018 10:08 PM IST
In an effort to prevent and control the spread of seasonal diseases, students up to class 8 in all government schools will be taught vector control.
Every Saturday, teachers will inform students about vector control, source reduction activities and water-borne diseases during the prayer meeting. Vector control is the method to limit or eradicate mammals, birds or insects (collectively called vectors) which transmit disease pathogens.
The health department in an inter-sectoral meeting emphasised the need for close collaboration between health and non-health sectors for prevention and control of seasonal diseases, including malaria, dengue, chikungunya and scrub typhus.
Last year had seen a rapid outbreak of seasonal diseases. State health department figures show that between January 2017 and December 2017, there were 8,427 dengue cases and 14 deaths.
Official data shows that from January to July 5 this year, the state has reported 908 malaria cases, 1808 dengue cases including three deaths, 130 chikungunya cases, and 1370 swine flu cases, including 134 deaths.
"The education department has been asked schools to teach students about vector control. The health department will put posters on school premises to inform students about vector control," said additional director (rural health) Dr Ravi Prakash Mathur. He added that a 'Dry Day Concept' will be started in schools during which water from coolers, water pots for birds etc will be drained out, scrubbed and dried and then refilled with water.
"Apart from the education department, cooperation has been sought from other departments for prevention and control of seasonal diseases," Dr Mathur said. He said that the urban development and local self-government department has been asked to clean drains, prevent water-logging in urban areas, especially slums, cover and regularly clean wastewater systems in order to avoid breeding of mosquito and fogging by the municipal corporation in the city area.
Dr Mathur said that the Public Health and Engineering Department (PHED) has been directed to issue instructions to the district officials to test water samples on a priority basis. They have also been asked not to impose any limit on the number of water samples drawn in a problematic situation, issue instructions to the district officials for supply of bleaching powder on payment basis to the health department as and when required, joint survey with medical and health departments and PHED department during epidemics and regular cleaning of overhead tanks and ground level reservoirs by marking dates.
The food and civil supplies department has been asked for regular and uninterrupted supply of kerosene to districts according to demand and norms for prevention and control of malaria. Rural and panchayati raj department, zila parishad/panchayati raj institutions have been asked to extend support for maximum coverage of DDT spray and to provide sufficient quantity of water for the operation.
The official said that integrated child development services (ICDS) of woman and child development department has been asked to issue directions to accredited social health activists (ASHAs) to mkep an eye on patients with fever. The ASHAs will be given ₹15 for each blood slide collection and ₹75 for complete treatment of every malaria-positive patient.
The medical education department has been directed to provide a list of malaria and dengue positive patients with their names, address and mobile numbers.
The Rajasthan State Road Transport Corporation (RSRTC) has been directed to issue instructions to bus drivers to collect blood slides from Auxiliary Nurse Midwives (ANMs) of sub-centre and hand them over to primary health centre officials, along with the supply of burnt oil to the health department at a subsidised rate.
Dr Mathur said the animal husbandry department has to ensure that their veterinary officers should participate in zoonotic disease outbreak investigation with the health department, as part of the rapid response team (RRT). He said scrub typhus is emerging disease of zoonotic importance, therefore, spray of cypermethrin on and around animals is important.
Apart from all these departments, the Indian Railways has also been asked to undertake anti-larval and source reduction activities with the onset of monsoon and to provide a list of malaria and dengue positive patients.
The defence department has been asked to do source reduction and anti-larval activities, maintenance of drains etc in defence establishments and colonies. They should also provide information to the health department about malaria and dengue positive cases so that department can take necessary action.
Close Story