Two lion cubs born at Machia biological park
Jun 29, 2018 10:35 PM IST
An Asiatic lioness RT gave birth to two cubs at Machia Biological Park on Thursday. However, due to the mother's inability to feed the babies, the cubs are being administered milk from a feeding bottle
An Asiatic lioness RT gave birth to two cubs at Machia Biological Park on Thursday. However, due to the mother's inability to feed the babies, the cubs are being administered milk from a feeding bottle.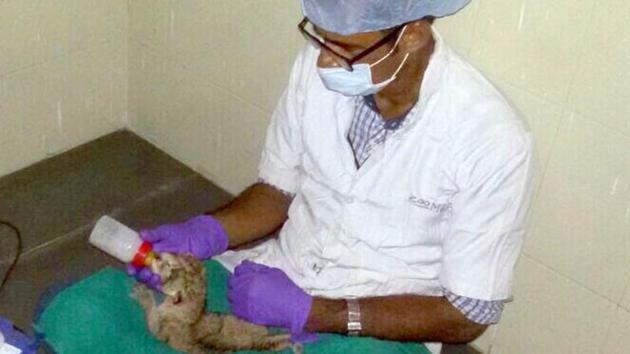 This is the fifth time in the last two and a half years that the Asiatic lioness has given birth to cubs. She has so far given birth to 11 cubs. At present, there are two newborns besides three other cubs in the biological park. Officials said that the lioness gave birth to a male and a female cub. RT was brought to Machia biological park from Junagarh in Gujarat on March 17, 2016.
On June 7, 2016, she begot two premature cubs who died within fortnight. On October 22, 2016, she begot three cubs. Later, two of them died for want of milk, while the third one, in order to save its life was shifted to hospital by the wildlife department. The cub, named Kailash, was constantly monitored and now it has become the centre of attraction in the park.
Dr Shrawan Singh Rathore of wildlife rescue centre said that both the newborn cubs are being given powdered milk in every four hours. The staff of the park have taken up the responsibility of saving the life of both the cubs, Dr Rathore said.