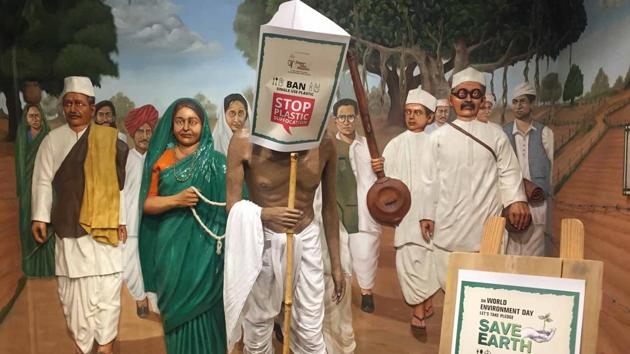 Wax museum covers faces of statues with bags to urge tourists to go 'say no to plastic'
In next 30 years, plastic will become one of the most serious challenges.
UPDATED ON JUN 05, 2018 09:54 PM IST
Tourists visiting Jaipur Wax Museum at Nahargarh Fort in the Pink City on Tuesday were surprised to see the faces of the statues covered with plastic bags. Ten minutes later, the plastic bags were removed and the visitors discovered that it was an appeal to them to say 'No to Plastic' on World Environment Day.
"It was a unique idea to create awareness among people to reduce pollution created by plastic and to support the 'Beat Plastic pollution' move —the theme for this year's World Environment Day. It was appreciated by the tourists," said museum founder director Anoop Srivastava.
He said that the environmental experts say that in the next 30 years, plastic will become one of the most serious challenges and a threat to the ecology. There may be more plastic in the ocean than fishes and it's a dangerous sign, added Srivastava.
The faces of all 36 statues of celebrities were covered with plastic bags with a slogan "Ban Plastic' on it. The management then informed the tourists about the campaign and requested people to support the initiative.
"As of now, one simple corrective step can save our future. Ban 'single-use plastic' such as plastic bags, straws, plastic spoons, water and soft drink bottles and others. We have to refuse all these things from today and single-use plastic should be banned in our country," said Srivastava.
"I am sure all living legends, sports stars, actors, spiritual leaders and others will support this initiative," he added.
Close