With help from Kota, 20 tribals from Maoist heartland clear JEE
Around 20 tribal students, including eight girls, from the Maoist-affected Dantewada district of Chhattisgarh have cracked the Joint Entrance Examination (Main) 2018, thanks to coaching provided by a Kota-based institute under a government project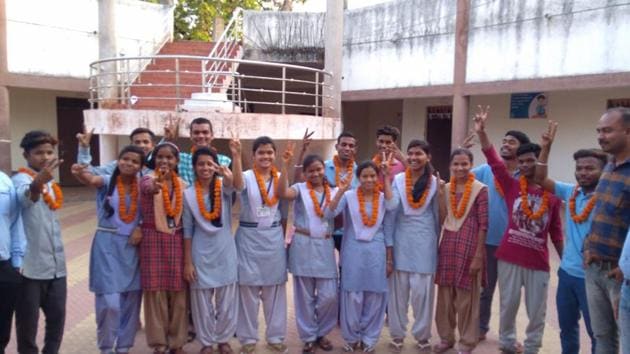 Updated on May 06, 2018 02:29 PM IST
Hindustan Times |
Aabshar H Quazi
Around 20 tribal students, including eight girls, from the Maoist-affected Dantewada district of Chhattisgarh have cracked the Joint Entrance Examination (Main) 2018, thanks to coaching provided by a Kota-based institute under a government project.
The results of the JEE Main 2018 for admissions to undergraduate engineering and architecture courses, mainly in 31 National Institutes of Technology (NITs) and 23 Indian Institute of Information Technology (IIITs), were announced on April 30. The successful candidates are eligible to write JEE Advanced, conducted for admissions to Indian Institutes of Technology (IITs).
Under the 'Choo Lo Aasman' project of the Chattisgarh government, Career Point Institute of Kota provided coaching to 40 tribal students of Dantewada, of whom 20 have qualified for JEE Advanced.
Gayatri Dhruv (17), daughter of a police constable, has got All India Rank 5158 in the scheduled tribe category of JEE Mains.
"There was no professional coaching facility available in Dantewada for IIT-JEE. The project 'Choo Lo Aasman' has come as a boon for tribal kids who are provided coaching at Dantewada," said Dhruv of Bijapur village, around 4 km from the district headquarters.
She has been taking free coaching from the Career Point's centre at Dantewada for the last 2 years.
"Naxalites do not allow education to kids in the rural areas, so coaching for IIT-JEE was a dream for tribal kids like us," said Rahul Mandavi (20), who has got AIR 7000 in the ST category.
"Government has provided a bus for taking tribal kids for coaching to the 'Choo Lo Aasman' project centre at Dantewada," said Mandavi, son of a government clerk from Chote Gudra village.
Asked about the teaching experience, Ashutosh Kumar (26), a faculty member of the coaching institute, said, "When we were sent from Kota to Dantewada, we were initially scared of Maoist terror in the region. Later we got adapted to it and are now comfortable here." Free coaching, he said, is provided to only government school students.
Pramod Maheshwari, chief executive officer of Career Point Institute in Kota, said the Chhattisgarh government signed a memorandum of understanding (MoU) with the institute to start 'Choo Lo Aasman' project a couple of years ago. The institute charges subsidised fees from the State government for coaching.
"The aim is to ensure quality education to the kids of Maoist-affected areas and bring their families to the mainstream, and promote talent among rural kids," he said. "Our 14 faculty members and staff are staying in Dantewada."
Ashutosh Kumar said they were also offering coaching for NEET, held for medical admissions, to around 100 tribal students, including 48 are girls, of Dantewada in Bastar division.
Close Story