Bengal's first carcass meat samples found unfit for forensic test, bacteria found in eatery food
Jun 28, 2018 04:58 PM IST
The state forensic science laboratory said in its report that the meat was so decomposed that no test could be conducted, CID told a court in Kolkata.
Samples of the carcass meat seized in the outskirts of Kolkata on April 20 were found unfit for tests by the state forensic science laboratory, Criminal Investigation Department (CID) of Bengal police told a court on Wednesday.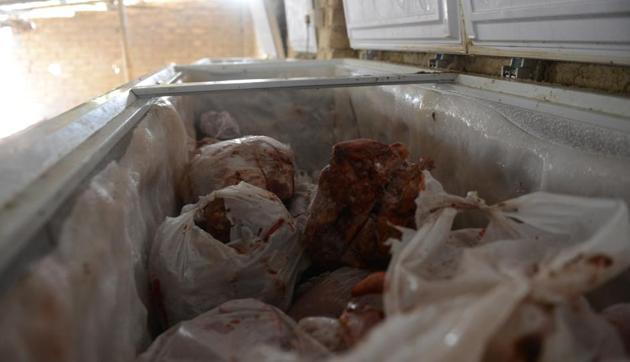 "The state forensic science laboratory said in its report that the meat was so decomposed that no test could be conducted," CID's lawyer Naba Kumar Ghosh told Alipore Court in Kolkata.
The meat, allegedly meant to be sold in markets for human consumption, was being carried in the trunk of a luxury taxi when officers of Budge Budge police station in South 24 Parganas district seized it.
Read: Carcass meat probe: Citizens shun eateries, stores in Kolkata; NGO to file PIL
The seizure created a sensation across Bengal. Subsequently more raids were conducted at cold storages, markets and eateries and 14 people were arrested from five districts. CID took over the probe on May 10. By then, sale of raw, processed and cooked meat had fallen drastically, especially in Kolkata and adjacent districts.
Dibyendu Bhattacharya, the lawyer defending Sharafat Hussain, one of the key accused arrested from Kalyani in Nadia district, demanded release of his client saying the CID had failed to prove that carcass meat was sold for human consumption and people fell ill after taking it. "Also, no new arrest has been made by CID," said Bhattacharya.
A fresh stir was created on Wednesday when Sabyasachi Dutta, mayor of Salt Lake, Kolkata's twin city, said that out of 25 food samples collected from different eateries in Salt Lake as many as nine were found to be unfit for consumption.
Read: Mamata Banerjee forms committee to stop carcass meat trade
"The samples were sent to the state public health laboratory. Different types of harmful bacteria were found in some samples. We have forwarded these reports to the state government and the outlets will be officially informed," Dutta said.
The Salt Lake mayor said samples collected from a fast food outlet and a Mughlai restaurant were also found to be unfit for consumption.
Incidentally, a huge quantity of meat was found by the road in the Dum Dum area on Thursday. The meat was neatly wrapped in plastic when some local people spotted these.
The racket has allegedly been selling the meat of dead animals left in dumping grounds in several districts. It is suspected that the meat, after being processed with chemicals and frozen to a temperature of around minus 44 degree Fahrenheit, was sold to traders in neighbouring states as well.
Two days after the first seizure, as much as 20 tons of meat, neatly packet in 1,000 plastic packets, was seized from a private cold storage facility in the Narkeldanga area of Kolkata.
Read: Bengal carcass meat probe: Cops posed as traders to nab key players; bank accounts under scanner
The incident, the first of its kind in Bengal, has scared consumers because all dead animals, ranging from cows to cats, are left to decompose in dumping grounds. Scavenger birds and animals feed on the carcasses.
In a bid to counter the racket, Kolkata Municipal Corporation (KMC) brought into force new regulations under which shopkeepers in city markets run by the civic body are not be allowed to sell any type of frozen meat.