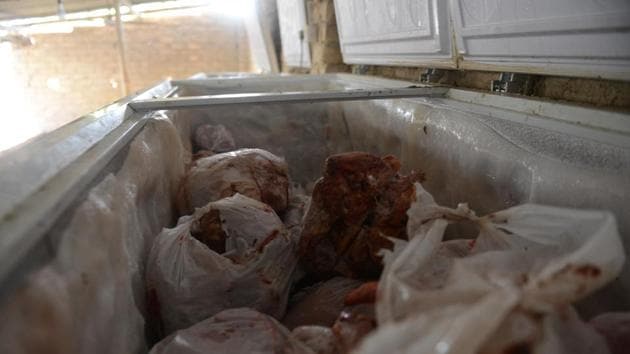 Carcass meat probe: Citizens shun eateries, stores in Kolkata; NGO to file PIL
Restaurants and confectioners selling meat products in Kolkata have fewer customers since police investigation has indicated that carcass meat was supplied to some restaurants and fast food outlets.
PUBLISHED ON MAY 01, 2018 05:57 PM IST
Even as Bengal Police continued to hunt for kingpins of the inter-state racket that has been selling carcass meat recovered from dumping grounds for more than five years, Kolkata and nighbouring districts witnessed a massive fall in sale of raw, processed and cooked meat.
The racket was detected on April 20 at Budge Budge in South 24 Parganas district, about 28 kilometre from Kolkata. Ten people, including Manik Mukherjee, a CPI(M) leader who was expelled by the party in 2010, have so far been arrested.
During the weekend, restaurants and eateries witnessed significant drop in footfall. Even confectioners selling meat products saw fewer customers since police investigation indicated that carcass meat was supplied to several popular and ordinary restaurants and fast food outlets. Thousands of messages, containing names of several eateries and shops, started surfacing on social media. Seeking extension of police custody for some of the accused, police told the Alipore court on Monday that influential people are suspected to be involved in the carcass meat racket.
On Monday, Indian Railway Catering and Tourism Corporation (IRCTC) asked its food suppliers in the state not to store frozen meat. "This is a precautionary measure," Debasish Chandra, group general manager, IRCTC, told the media.
Read: Inter-state racket selling carcass meat from dumping grounds busted in Bengal; ex-CPM councillor among 10 nabbed
The investigation, the first of its kind in Bengal, has created a stir because carcasses of all types of animals, ranging from cows to cats, are left to decompose in dumping grounds. Scavenging birds and animals feed on these.
On Monday, Citizens For Social Justice, an NGO, submitted a notice at the Calcutta high court for filing a public interest litigation (PIL). "We want arrest of the masterminds, amendment to existing laws and introduction of penal measures. Also, the West Bengal Food Safety Appellate Tribunal should be made effective," said Arindam Das, lawyer and secretary of the NGO.
The police investigation, being conducted by a 10-member special team of the Bengal Police, could not make any more arrest since Saturday although several raids were conducted. The main case has been registered at Budge Budge police station. However other police stations in the district and Kolkata are also acting on tip-offs. A poultry near the city airport was raided on Saturday after local people complained that dead chicken were sold from there. The owner, Kausar Ali Dhali, however escaped.
"We are following leads and checking account books recovered during the raids. Some entries in these records suggest that these people also supplied meat to eateries and stores where cold and processed meat is sold," said a police officer on condition of anonymity. "We cannot reveal more right now," he said.
Read: Two held in Bengal for selling skin and meat of dead animals dumped in Kolkata outskirts
In Kolkata and surrounding districts, the meat business has taken a hit ever since police busted the supply chain last week.
"Over the weekend, when demand for mutton and chicken peaks in Kolkata, sales dropped by more than 50 per cent. Some people bought chicken but wanted to check the live birds first," said Madhusudan Koley, a chicken seller at the Kolkata Municipal Corporation-run Gariahat market in south Kolkata.
"Bengalis love Mughlai food and demand for mutton and chicken biryani and other dishes usually soars during weekends. With media reports saying that even dog and cat meat might have been served as food, people are simply avoiding restaurants," said a manager at the one of Kolkata's oldest restaurants near New Market. "Please do not name our establishment. It will drive away our remaining customers," he requested.
Read: 75 dogs, to be sold for meat in Nagaland, rescued in Assam
The Bengal Police have found that carcass meat, after being processed with chemicals such as formaldehyde and frozen to a temperature of minus 44 degree Fahrenheit, was sold to traders in Bengal, Bihar, Odisha and Assam.
As much as 20 tons of carcass meat, neatly packet in 1000 plastic packets, was seized on April 26 from a private cold storage in the Narkeldanga area of Kolkata on April 26. Ten people, including Manik Mukherjee, a former CPI(M) councillor of Gayeshpur municipality in Nadia district, have so far been arrested from Bengal and Bihar.
Mukherjee was expelled by CPI(M) in 2010 for working against the party. Police have found that over the past five years he used to run his operation inside a house that had the fake sign of a Central government organisation. Carcasses were brought to the house. Till he retired two years ago, Mukherjee was an employee of Kalyani municipality in Nadia district and he was assigned to look after dumping grounds in the area.
The accused have been charged under Sections 272, 273 and 308 of Indian Penal Code and Section 16 of Prevention of Food Adulteration Act, West Bengal. While Sections 272 and 273 deal with adulteration of food or drink intended for sale, Section 308 deals with attempt to commit culpable homicide.
The Budge Budge police unearthed the racket after some residents of Subhas Udyan area (about 28 km from Kolkata) caught Raja Mullick, a casual worker of the local municipality and Vincent Simon, a taxi driver, while some meat and animal parts were being smuggled out in the taxi on April 20.
Close