West Bengal may lift building limits in fragile wetlands
Updated on Dec 13, 2017 11:09 PM IST
Experts say decision will harm the area already facing threats from encroachment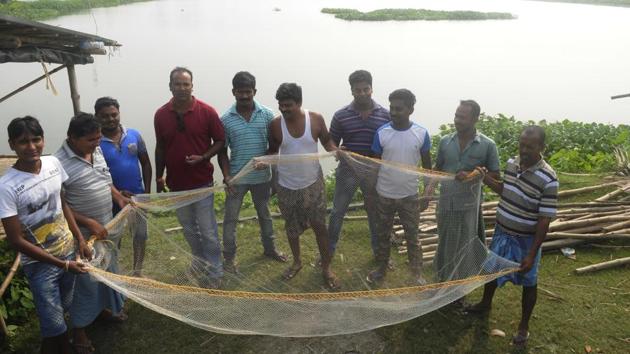 The West Bengal government has proposed lifting building and land conversion restrictions in a section of the 12,500 hectares of East Kolkata Wetlands (EKW), angering environmentalists who say the move will kill the world's largest organic sewage management system and choke Kolkata.
A document prepared by the East Kolkata Wetlands Management Authority (EKWMA) under the department of environment wants to divide EKW into four zones, the last of which is proposed to have no special regulation. Currently, conversion of wetland is banned and people who live on the EKW — a patchwork of sewage canals, shallow fishery ponds, and agriculture land — must seek government permission even for building culverts or new farms.
"The management plan should identify areas for creation of different management zones within the wetlands such as a) no development zone, where no changes/development shall be permitted, b) regulated development zone, c) limited change zone/wise use zone, d) "No importance to wetlands" zone, where normal regulations and not special wetland regulations may be applicable," reads a paragraph under the sub-head 'scope of work' of the document titled 'Tender for selection of agencies for preparation of management plan'. HT has a copy of the document.
The draft tender document seeking 'expression of interest' will have to be approved by a six-member steering committee comprising four state government officials and two environmentalists. "The draft document is not yet final. Views of experts from different disciplines will be considered before finalising the document," said Sandipan Mukherjee, chief technical officer of EKWMA and member-secretary of the steering committee.
He said that the management plan was envisaged to reduce problems faced by the 130,000 residents of EKW who cannot even expand their existing houses.
But environmental experts say the decision will harm the wetland already facing threats from encroachment and illegal construction. "There cannot be any area of 'no importance to wetlands' in EKW. It sounds like the government aims at sacrificing them for urbanisation," said Bonani Kakkar of NGO People United for Better Living In Calcutta. It was their petition in the Calcutta high court in 1992 that resulted in the ban on land conversion and special regulations.
Dhruba Dasgupta of Society for Creative Opportunities and Participatory Ecosystems (SCOPE), an NGO, pointed out that Kolkata, which houses a population of 14 million, had run out of space to expand on its northern and southern fringes, and with the west blocked by the river Hoogly, the east was the only direction to grow.
The government denied the allegations and pointed out that the document was still not final. "The government is committed to protecting the wetlands," said Mukherjee.
Two months ago, state environment minister Sovan Chatterjee, also the housing minister and Kolkata mayor, proposed a flyover over the wetlands. The government approached Asian Development Bank for the project but was turned down. Repeated calls to Chatterjee over three days went unanswered.
Kolkata generates more than 750 million litres of waste water and sewage daily but the city's core area has no sewage treatment plant. Instead, an intricate network of wetlands managed by farmers and fisher folk receives the sewage, and with help from sunshine and oxygen, breaks it down to produce food for fish, which is then sold back to the city.
This unique ecosystem also produces a third of the city's fish requirements. "EKW is Kolkata's biggest ecological asset," said environmentalist Dhrubajyoti Ghosh.
In 1992, the HC banned conversion of water bodies and agricultural land across the EKW. In 2002, a Geneva-based international convention, the Ramsar Convention on Wetlands, declared the EKW 'a wetland of global importance' and cited it as a model for reuse of water.
But problems began soon after. No management plan was put in place, and in the next decade, significant chunks of the area were lost to illegal construction and encroachment, said Asesh Sengupta of Kolkata Commons Centre for Inter-disciplinary Research and Analytics (CIRA).
In the absence of official surveys, gauging the extent of encroachment is difficult. A 2016 survey conducted by SCOPE at Bhagwanpur, one of the 32 mouzas, the local word for settlement, revealed water cover reduced from 88% in 2002 to 19% in 2016, while an Indian Council for Social Science Research in 2014 revealed number of fishery ponds decreased from 264 in 2002 to 202 in 2014.
Another unique feature of EKW is the sheer number of people who live on it, estimated by activists to be around 500,000. The last official survey in 2002 put the number at 130,000. There is no official figure on the construction activity but residents admit that hutments and hovels have mushroomed in recent years — anywhere between 2,000 and 5,000 units.
"There are innumerable instances of police rushing in to stop expansion or modification of existing houses," said Pulak Biswas, a resident of Diyara village.
Records show EKWMA served four notices in June 2017, asking the recipients to restore the land within a month. None of those sites were restored till December 12. Mukherjee said the agency has no infrastructure of its own to restore land to its original state.
"The restrictions imposed on the wetlands in 1992 did not consider the realistic needs of the original inhabitants…the rules need to be relaxed for them, as these local residents are an integral part of the ecosystem," said Dhrubajyoti Ghosh.
"Instead of measuring the encroachment and compensating it, if these areas are dropped from the map altogether, this will not only legitimise illegal construction and encroachments but also set a bad precedent. It will encourage the real estate lobby to be more reckless," said Sengupta.