Onam 2018, here's why Sadya is the most balanced meal, full of nutritional value
Aug 25, 2018 09:16 AM IST
Onam 2018: The traditional Onam Sadya, a feast that consists of 26 dishes, is one of the highlights of the festival with Malayalis cooking it for friends and family. Though the meal may seem indulgent, it is, in fact, one of the healthiest thalis one can have.
South Indian food is undoubtedly one of the healthiest cuisines around. And like most Indian regional food, South Indian food, too, is prepared keeping in mind the Ayurvedic way of eating and seasonal cooking.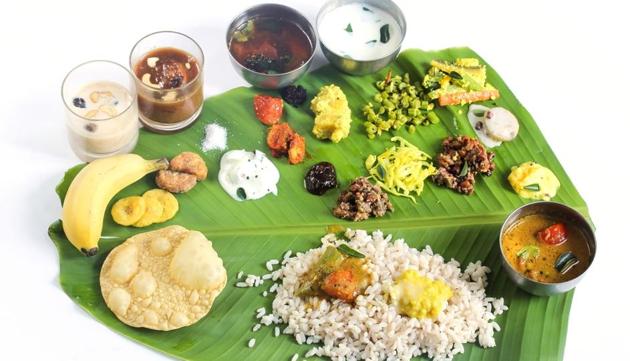 Onam celebrations begin on August 15 and go on till August 27. Malayalis across the world celebrate this festival with grand festivities. However, the best part of the festival is obviously the food. The traditional Onam Sadya, a feast that consists of 26 dishes is the main attraction with Malyalis cooking it for friends and family. Though the meal may seem indulgent, it is one of the healthiest thalis that one can have. According to Naaznin Husein, founder and director of Freedom wellness and lifestyle management, Sadya is a nutrition-dense meal. "It has a great balance of antioxidants, anti-inflammatory foods, high calcium and gut-friendly foods," she says.
Here's how the Onam Sadya is a healthy mixture of all things good. We break it down to the nutritional value of each dish and why you should have it.
Kalan
This is a popular traditional curry and is an important part of Onam Sadya. "Made with yams, sweet potatoes, coconut, butter milk, turmeric, chilies and many other herbs, it is a rich source of probiotics. Sweet potatoes and yams are starchy alkaline root vegetables, which help with the gut bacteria," says Payal Kothari, integrative nutritionist and life coach.
Olan
This delicious dish is made with white gourd and is full of fibre. "The gourd has a cooling, laxative and diuretic effect. When cooked with coconut, which is high in calories and saturated fats called medium-chain triglycerides (MCT) and lauric acid, it becomes a wholesome meal. MCTs go from the digestive tract directly to the liver, where they're used for energy or ketone production. They are therefore less likely to be stored as fat," says Husein.
Also read: Celebrate Onam: Make your own sadya at home with these 3 delicious dishes
Avial
The dish is made with a mix of various vegetables cooked with coconut. It is also loaded with nutrients and antioxidants.
Kootu curry
This dish is made with chickpeas. It's a rich source of protein. This guilt-free dish is the perfect way to binge when you're trying to watch your weight. It has a low glycemic index, making it perfect for those with conditions such as diabetes and insulin resistance.
Rasam
This flavourful dish is made with dal and tomatoes. It has a good mix of healthy ingredients and herbs such as fenugreek, pepper corn, turmeric and coriander seeds. "All these ingredients are a combination of essential macros and micros required by the body for sustainability, energy and immunity. Popular with all ages, this anti-inflammatory, anti-bacterial and antioxidant-rich soup whets an appetite for the food courses to follow," says Kothari.
Parippu payasam
This much-loved traditional dessert is made with dal, jaggery and coconut milk. "The yellow dal contributes to the complex carbs, while coconut milk creates a rich texture along with plenty of medium chain triglycerides and iron-rich jaggery that pack in the power," says Husein.
All the dishes are made with a generous sprinkling of hing, which has digestive qualities. Now, do you need more reasons to try a delicious Onam Sadya this festive season?
Follow @htlifeandstyle for more