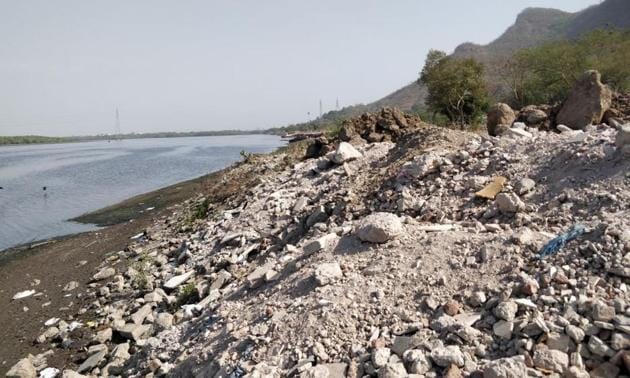 '2,000 truckload of debris dumped at wetlands near Mumbai'
Destruction taking place at Ulhas estuary, before Thane creek, says a member of the high court constituted wetland grievance redressal committee
PUBLISHED ON APR 14, 2018 10:20 AM IST
In one of the biggest cases of wetland destruction reported from Mumbai Metropolitan Region (MMR), investigation by a member of the Bombay high court (HC) constituted wetland grievance redressal committee revealed that more than 2,000 truckload of debris has been dumped along the coastal wetlands of Ulhas estuary (before Thane creek) so far. Located in Mumbra, the site is an eco-sensitive area.
According to Stalin D, director of NGO Vanashakti and member of the grievance committee, mudflat along the estuary, including mangroves spread across 20-acres, have been filled with debris.
"This work is being done by Thane Municipal Corporation (TMC) and we have recorded the violation. Bombay HC orders are being brazenly violated by TMC, which is indulging in reclamation of areas protected by coastal regulation zone (CRZ) norms," he said.
He added instead of restoring the mudflat, which are an integral part of the coastal wetland ecosystem, TMC is destroying it. "Even a private developer, with political clout. will think twice before doing such a thing," Stalin added.
Between January 2012 and January 2018, there have been 652 cases of wetland destruction in the state, most of which are related to create land for infrastructure development or residential purposes, revealed a report by city-based non-governmental organisation. Of these 60% cases were reported from MMR.
In 2014, the HC banned reclamation and construction on wetlands after NGO Vanashakti filed a petition to protect them. Other members of the grievance committee said they will highlight the case during the next meeting scheduled later this month.
"Prima facie, based on video evidence, this is a massive violation. We will have to check the atlas to confirm that the exact location is a wetland. However, the Thane collector and TMC officers will be asked to respond to the allegations by our committee member," said JR Gowda, member secretary, HC committee, and deputy conservator of forest, state mangrove cell.
Sudam Pardeshi, sub-divisional officer, Thane said, "We have not received this exact complaint yet but have been told about such a violation. We have already instructed our officers to commence investigation in this issue, and we will have all details by the next HC committee meeting."
TMC officers denied that construction and demolition waste has never been dumped across any wetland areas across Thane district. "However, we will check the coordinates provided by the complainant to check the alleged violation. As of now construction and demolition waste is being dumped at a site near Diva, where such waste processing unit will be developed within the next two months," said Omprakash Divte, deputy municipal commissioner, TMC.
Topics
Close