3,000 million litres of sewage enters Maharashtra waters daily, says environment ministry report
Sep 25, 2017 09:40 AM IST
The WHO estimates that proper and safe sewage disposal is essential because 80% of diseases in India are caused by water-borne pathogens
At least 3,000 million litres of untreated sewage and industrial effluents flow into rivers, water bodies or percolates into the ground in Maharashtra every day, according to a central government report.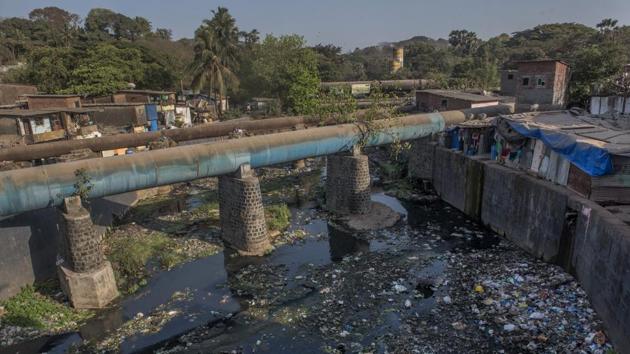 The report by the Ministry of Environment, Forests and Climate Change (MoEFCC), based on Central Pollution Control Board findings, accessed by HT, revealed the country generates 61,948 million litres of sewage a day (MLD), against a treatment capacity of 23,277 MLD. "The remaining 38,671 MLD untreated sewage is a major cause of countrywide water pollution and even harms citizens because it percolates into the ground," said a senior MoEFCC official.
Maharashtra generates the maximum sewage in India at 13% with 8,143 MLD as against treatment of 5,160.36 MLD through sewage treatment plants (STPs), a shortfall of almost 3,000 MLD. In comparison, the Brihanmumbai Municipal Corporation (BMC) supplies 3,750 MLD water every day to Mumbai against a demand of 4,505 million litres a day.
The World Health Organisation (WHO) estimates that proper and safe sewage disposal is essential because 80% of diseases in India are caused by water-borne pathogens. In addition to health problems, inadequate sewage disposal causes severe environmental degradation.
HT had reported on August 18 that the Supreme Court (SC) rapped the state government for allowing the Ulhas and Waldhuni rivers to degrade. The Apex court told the state government there was 'absolutely no coordination between authorities to protect the rivers'. On August 16, the SC formed a committee of experts headed by the state to restore the 'degraded' Mithi River in Mumbai and ensure the discharge of untreated sewage is addressed.
Officials from MoEFCC said a total sanctioned cost of Rs4,517.82 crore has been sanctioned under the National River Conservation Plan (NRCP) for pollution abatement measures for 31 rivers across 74 towns in 14 states.
"It is the responsibility of state governments and local civic bodies to ensure the collection, transportation and treatment of sewage and set up facilities for the same. Close to Rs 2,100 crore has already been released to various state governments under NRCP and the treatment capacity was increased to 2,500 MLD in mid-2017," the official said. "Now, investment by states, proper implementation by civic bodies and enforcement by state pollution boards under Water (Prevention and Control of Pollution) Act, 1974 should ensure effective treatment."
State government officials said the main reason for the state generating such large amounts of sewage was overpopulation. "The rise in population has always outstripped the efforts for pollution control. The state pollution control board has already issued directions to all municipal corporations that 25% of their annual budget will be earmarked for sewage treatment facilities. Secondly, funds are being dispensed by the central government, which will further enhance the efforts to reduce pollution," said Satish Gavai, additional chief secretary, state environment department.
According to the Maharashtra Pollution Control Board (MPCB), 65% of the sewage in the state is being treated and the remaining is not being tackled and harming the environment. "By 2019, we expect a scenario where there will be 80% compliance by urban cities in Maharashtra. For this, adequate grants will be dispensed by the state government to all 27 municipal corporations will be receiving adequate grants to develop STPs by December. The implementation will take another two years," said YP Sontakke, joint director, water quality department, MPCB.
MPCB said 27 municipal corporations in the state were responsible for 86% of sewage. While Mumbai, Navi Mumbai, Pune, Aurangabad, Nanded etc. are being able to treat more than 60% of their sewage, the problem lies at locations such as Parbhani, Amravati, Chandrapur, Bhiwandi, Ulhasnagar, Jalgaon and Dhule, where treatment is extremely low, said Sontakke.
He said the challenge was uncontrolled urbanisation. "In urban areas, slums are cropping at a much faster rate and their sewage generation is more than housing societies or institutions. There is also lack of infrastructure being set up in these areas and this social concern is hindering efforts by corporations," he said.
"Exciting news! Hindustan Times is now on WhatsApp Channels
Subscribe today by clicking the link and stay updated with the latest news!"
Click here!