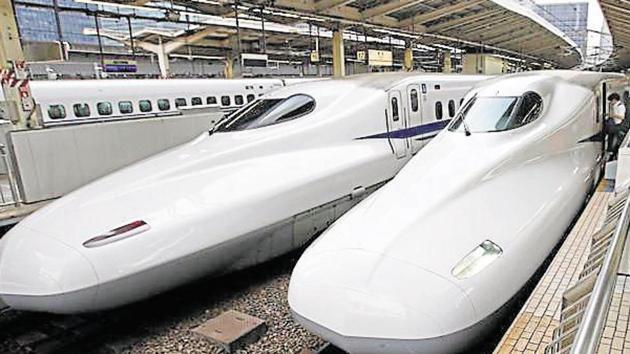 High-speed bullet trains likely to run on short rail corridors across India, not long-distance routes
Long routes will not be feasible financially as commuters prefer flights to extended train journeys, said National High Speed Rail Corporation officials
Hindustan Times | By Aroosa Ahmed
, Mumbai
UPDATED ON FEB 06, 2018 03:48 PM IST
As the Mumbai-Ahmedabad bullet train project kicks off and plans are being drawn up for a second high-speed corridor between Mumbai and Pune, the central government is considering shorter rail corridors to make such projects more feasible.
Authorities have arrived at this conclusion after studying high-speed rail networks in China, spread across nearly 27,000 km, said officials involved in the process.The study revealed that typically, commuters prefer flights to long-distance train journeys.
Short-distance corridors make the project more feasible financially. "The fares of long-distance, high-speed trains would be nearly the same as flights, though the travelling time will be longer than an air journey. This makes long-distance corridors unfeasible, and that's why long-distance bullet trains have failed in China, too," said a senior officer from National High Speed Rail Corporation Limited (NHSRCL), requesting anonymity. "So we are not looking at long-distance corridors, we are considering short-distance routes that connect the entire country."
Short-distance routes that see a lot of commuter traffic, for example, include the Delhi-Amritsar and Mumbai-Pune routes. "Currently, a Mumbai-Pune intercity train takes around three hours. If that travel time can be cut to 60 to 90 minutes, passenger response will be tremendous," the official said.
The Centre is planning an estimated 4,500km of high-speed rail network, and a Delhi-Amritsar corridor is being taken up. If the high-speed train project is completed as planned, India will be the third country in the world to have the largest high-speed rail network, the first being China with a network of 39,000 km (this includes the projects currently under construction), followed by Spain with 4,900 km.
In September 2017, Prime Minister Narendra Modi and Japanese Prime Minister Shinzo Abe laid the foundation stone for the bullet train project between Mumbai and Ahmedabad. Work on this 508-km corridor, which will have 12 stations and a maintenance depot, has already kicked off.
Railway authorities are also planning to link the bullet train with upcoming metro lines, as well as Central and Western Railway services.
During the Union Budget presentation, finance minister Arun Jaitley announced that a railway university would be constructed at Vadodara, which will serve as a training centre for manpower required for the country's high-speed rail projects.
Close