HT Exclusive: Mumbai civic body to utilise FDs of Rs20,000 crore for projects, civic chief says
Published on Mar 31, 2017 09:15 AM IST
Ajoy Mehta, in an exclusive interview a day after he presented a heavily trimmed BMC budget, said 2017-18 is all about better services and planning for the long run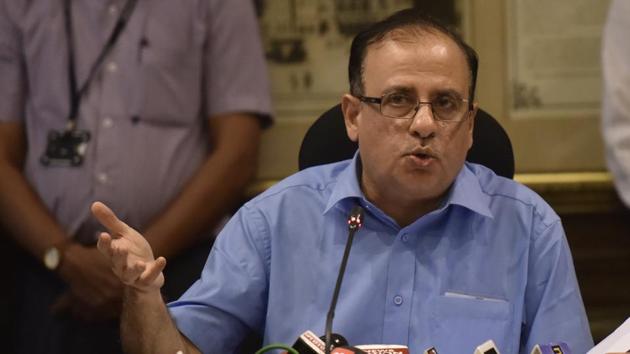 A day after he presented a heavily trimmed municipal budget of Rs25,414 crore that slashed the country's richest civic body's total outlay by nearly a third from last year, civic chief Ajoy Mehta spoke exclusively to Hindustan Times about the financial road map for the Brihanmumbai Municipal Corporation (BMC).
The BMC's fixed deposits of Rs61,510 crore — the civic body has faced flak for keeping stashes of cash in FDs at nationalised banks when the city continues to be a mess — have been linked for the first time to the budget, Mehta told HT.
And, a substantial part of it (Rs23,510 crore) will be used for Mumbai's long-term development.
Mehta spoke to HT about how there will be an emphasis on financial monitoring to ensure better civic services in Mumbai this year, the BMC's need to look for alternate sources of income once the goods and services tax (GST) is rolled out and the lack of awareness so far in maintaining financial discipline in the civic body.
The BMC has brought down the budget by 32.14% stating that the total outlay was inflated all these years. Why did the civic body not initiate it earlier?
I would say there was lack of awareness on maintaining a certain amount of financial discipline. The expenditure in the last five years was low barring the last financial year. However, the budgetary provisioning kept increasing. This is when I asked my officials to take a re-look at their spending capacity and present a realistic figure. From now, the department heads will also be held responsible to better their spending capacity and also to monitor their expenses every month.
What can Mumbaiites expect from these changes?
There will be constant financial monitoring, which means better delivery of services and quality of work in the city. his is also the first time the Development Plan (DP) of the city has been integrated with the budget. The DP is a well-thought out 20-year plan that needs proper financial backing. There is a complete synergy between these two tools, which will result in better planning.
While the BMC has admitted that there is a slowdown in the real-estate market, it has proposed a surcharge on realty deals. What is the rationale behind this move?
The Goods and Services Tax will protect our revenues for the next five years. But we do not know what will happen after these five years. We have to look at alternate sources of income. This alternate source has to be from within the city limits too. While we have made suggestions of a surcharge and collecting a professional tax, it is not final yet. We will continue exploring alternate sources of income.
What is the BMC's plan for its cash reserves, which is worth Rs61,510 crore?
We have fixed deposits worth Rs61,510 crore, of which around Rs38,000 crores cannot be utilised as it is money reserved for pensions, provident funds and contractor deposits, among other things. However, the remaining sum is for the long-term benefits of the city. This is the first time the fixed deposits have been linked with the budget. We have high-expenditure projects like the coastal road. So whenever, these high-expenditure projects take-off and our cash outflows exceed our revenue income, we can use these deposits for the works.
The opposition has termed it a BJP-sponsored budget, alleging that most of the party's projects have found a mention in the budget. What do you have to say to that?
A budget is a technical exercise involving facts, period.
READ MORE
Personalise your news feed. Follow trending topics