Mumbai is releasing untreated sewage into the sea, water around Juhu, Girgaum dirtiest
Jul 18, 2017 04:13 PM IST
Mumbai city news: Maharashtra Pollution Control Board officials said untreated sewage from slums and inadequately treated waste from other sources is fouling Mumbai's coastal waters.
Water along Mumbai's coast is dirtiest around Juhu, Girgaum Chowpatty and Haji Ali, but the city's filthiest water is in the Mithi River which flows into the Mahim creek.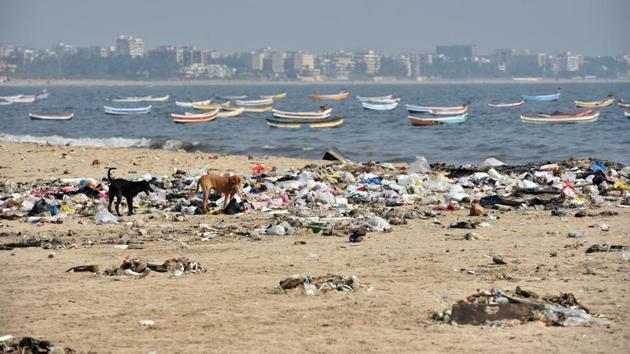 Maharashtra Pollution Control Board (MBPC) analysed water quality along Mumbai's coast between January and May to create a Water Quality Index (WQI). Juhu, Girgaum and Haji Ali recorded 44, 45 and 45.2 WQI levels, Mahim recorded 45.2, Worli Sea-face 46.1, Nariman Point 46.8 and Dadar Chowpatty 46.8. WQI between 38 and 50 is classified as polluted; a reading between 63 and 100 indicates clean water. Mithi's WQI is 28, which means highly polluted water. Thane creek, Versova and Gateway of India has relatively cleaner water.
MPCB officials said untreated sewage from slums and inadequately treated waste from other sources is fouling Mumbai's coastal waters. "The civic body has been informed about the condition of Mithi River time and again. They have submitted a Mithi River rejuvenation plan and will be spending to the tune of Rs400 crore to ensure it is clean again. We are supporting them in this activity," said YB Sontakke, joint director, water quality, MPCB.
Marine biologists said that a bad WQI means low levels of oxygen in water. "The level of oxygen will decline if poor water quality marred with sewage and plastic take over the surface of areas close to the coast. Not only will it wipe out marine life, it will lead to a tremendous drop in fish catch," said E Vivekanandan, consultant and scientist, Central Marine Fisheries Research Institute.
"There is no control on the sewage entering the sea. This has led to brown coloured muddy coastal water, which turns darker during sewage discharge daily," said BM Chaturvedi, senior vice president of the Cuffe Parade Residents Association.
The MPCB study shows that remedial steps can improve water quality. For instance, Versova, which recorded relatively cleaner water, WQI at 47, between March and May, had a WQI of 37 - equivalent of Mithi's reading - in February. The periodic cleaning of Versova beach has improved the quality of water. Versova residents led by city-based lawyer Afroz Shah have removed over 5.7million kg of trash over 92 weeks. "Regular beach cleanup drives at the coast have also helped reduce the amount of waste in the form of plastic and sewage to enter the sea," said Sontakke.
The cleanest coastal water was recorded near Gateway of India with WQI levels at 47 and since major portions of the Thane creek are protected as a Flamingo Sanctuary, the water quality there was the best in the city with WQI levels at 48.
Environmentalists said the water quality assessment, which was done before the monsoon season, has probably worsened now. "If the same study is done now, the WQI levels will be far worse than what is currently seen. This is because most of the sewage, stuck in pipelines or nullahs, is now being pushed into the sea," said Godfrey Pimenta, trustee, Watchdog Foundation.
MPCB said that water quality along Mumbai's sea coast could improve as the Brihanmumbai Municipal Corporation (BMC) is planning to treat more sewage before releasing it into the sea. "As per our directions, the civic body has assured that the sewage water from nullahs located along slums will be directed to the closest sewage treatment plants and only then discharged at sea," said Sontakke. "As per the current roadmap, we expect a significant improvement in water quality levels over the next six months to a year."
Sontakke added that from June, parameters to measure WQI will change. "We are going to take samples from different locations along the coastline, creeks and rivers, to narrow down and scrutinise the worst affected spots at each of these locations," he said.
Untreated sewage is fouling Mumbai's coast
According to Brihanmumbai Municipal Corporation's (BMC) sewage operations department, the city produces sewage amounting to 2,200 to 2,400 million litres per day (MLD). Of this, the civic body treats 1,500 MLD at Bhandup, Ghatkopar, Versova, Malad, Colaba, Worli and Bandra sewage treatment plants (STPs). Of the remaining 700-900 MLD, private STPS are treating some of the sewage at hotels and housing complexes while remaining pours into rivers, streams, creeks or directly at sea.
"Apart from sensitising slums along the coastline or river bodies, the state government has sanctioned the development of more sewage treatment plants across the city, especially at marine outfalls. The process will take time but within a year, we expect another 500MLD to be treated per day," said a senior official from BMC's sewage operations department.
Water quality in your city
(Source: Five month average of WQI levels recorded by MPCB in Mumbai)
Interpretation of Water Quality Index – Surface Water