Mumbai Kamala Mills fire: Police issue look out notice against owners of 1Above restaurant
Updated on Jan 01, 2018 09:32 AM IST
At the time of going to press, the police were still trying to locate them, sources said, adding that their mobile phones were switched off.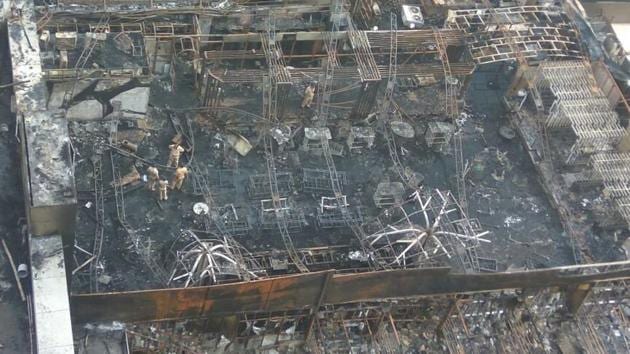 : The Mumbai police have issued a lookout notice against the three owners of rooftop restaurant 1Above in Kamala Mills, where a fire killed 14 people and injured 55 early on Friday. The owners have been booked for culpable homicide.
A lookout notice alerts security agencies to restrict domestic and international air travel of wanted accused.
The NM Joshi Marg police have filed a case against Kripesh Sanghvi and Jigar Sanghvi and their partner Abhijit Mankar. "The notice has been issued so that the three men don't travel domestically or internationally," said an officer privy to the investigation.
The police suspect that the three business partners may approach the court for an anticipatory bail. "Three teams are out of the city to trace them," said the officer.
The case has been registered under various sections of the Indian Penal Code (IPC), including 304 (culpable homicide not amounting to murder) which is non-bailable. Under this section, if an accused is found guilty, he can get a maximum punishment of life imprisonment.
The police are investigating how the fire started and recording statements of witnesses. "The CCTV camera wires and the digital video recorder box have been charred, but we are investigating further," said the officer.
Several theories are floating over the cause of fire: hookah cinders, a short-circuit or fire games at 1Above. But the police and fire brigade officials are yet to ascertain the cause. "We are focusing on the negligence part. The fire could be an accident but preventing it with adequate precautionary measures was the responsibility of the restropub," said the officer.
Witnesses told the police that the fire broke out on the rooftop bar of the four-storey building in Lower Parel at 12.15am. The investigating officer said the fire spread quickly, engulfing the ceiling, before patrons could realise its intensity. Fearing for their lives, they ran helter-skelter to save themselves from the collapsing roof.
Personalise your news feed. Follow trending topics