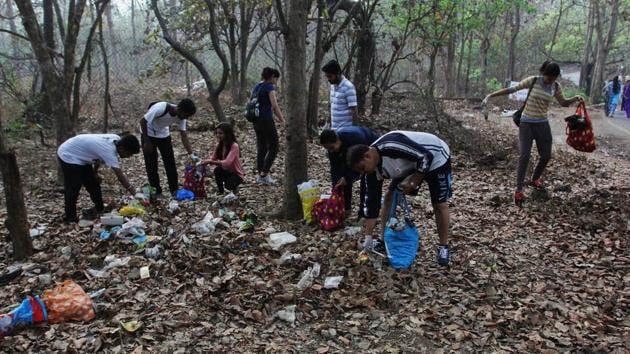 Thane residents come together to organise first-of-its-kind plogging event
'Plogging' is a combination of the words 'jogging' and Swedish phrase 'plocka upp' (to pick up). Simply put, plogging involves picking up trash while out for jogging.
Hindustan Times | By Yesha Kotak
, Mumbai
UPDATED ON APR 02, 2018 12:19 AM IST
On Sunday morning, around 70 Thane residents came together to pick up plastic and trash across three kilometres on Yeoor Hills in Thane, in what was the first 'plogging' event in the city.
'Plogging' is a combination of the words 'jogging' and Swedish phrase 'plocka upp' (to pick up). Simply put, plogging involves picking up trash while out for jogging. Plogging originated in Sweden last year, and eventually spread to the United States, the United Kingdom and Canada after it began trending on social media. Though in its nascent stages, the trend is now becoming popular among Indians too.
Those who participated on Sunday's plogging, most of whom were teenagers and regular visitors to the park, said they had not heard about the concept, until they reached the Yeoor gate, which is a part of the Sanjay Gandhi National Park.
"I come here to jog every Sunday. I was discussing about the issue of plastic waste getting worse in Yeoor just last week with my husband. I got to know about this event after that," said Jyoti Gupta, a financial consultant.
For Vinisha Mathias, a student of St Xavier's College, plogging was the 'good deed' she did on Easter.
"I have always wondered about what I can do for the society. Today, I feel good because it is our responsibility to clean the waste we leave behind," Mathias said.
The group collected the waste at Yeoor in cotton bags, which was disposed of in two garbage tippers provided to them by Thane Municipal Corporation (TMC). The group now intends to hold a similar drive on the first Sunday of every month.
"The participants were asked to only collect plastic waste, and were given gloves for safety. The whole purpose of this initiative is to get the youth involved. When you associate a clean-up drive with fitness and have a Zumba session followed by a breakfast in the end, it will get the youth on the streets to do socio-environmental work. We had asked the group to be silent, so as to not disturb the natural surroundings," said Tarun Kumar, a retired Air Force officer and founder of Earthkids Humanity Foundation, which was one of the organisers of the event.
The Yeoor Environmental Society is another organisation which played a role in Sunday's event. Rohit Joshi, founder of the society said that having a regular plogging event before monsoons will help in clearing the plastic waste, so that the drainage system does not choke, thereby preventing floods.
"Yeoor forest is an eco-sensitive zone, and such events before monsoon will ensure that we save many species here, as we would be protecting their natural habitat from destruction," said Joshi.
"It was a good initiative by eight-10 groups which came together. People usually have a mentality that the civic body should manage their waste. They fail to realise that clearing the waste left in public places is also their responsibility because they are the ones littering the area," said Parisha Sarnaik, a local corporator.
The decision to hold this event comes after state government proposed the Maharashtra Plastic and Thermocol Products (manufacture, usage, sale, transport, handling and storage) notification, as a result of which there is an effective ban on manufacture, usage, sale, transport, distribution, storage and import of plastic products and thermocol from March 23 onwards.
Close