Uri attack: India's response must not be to resort to punitive counter-assault
What India must not do is a punitive counterattack on Pakistan. For that will free Islamabad's hands to send huge numbers of terrorists into Kashmir. Pakistan knows that, given the conditions that prevail in Kashmir today, they would be welcomed as saviours.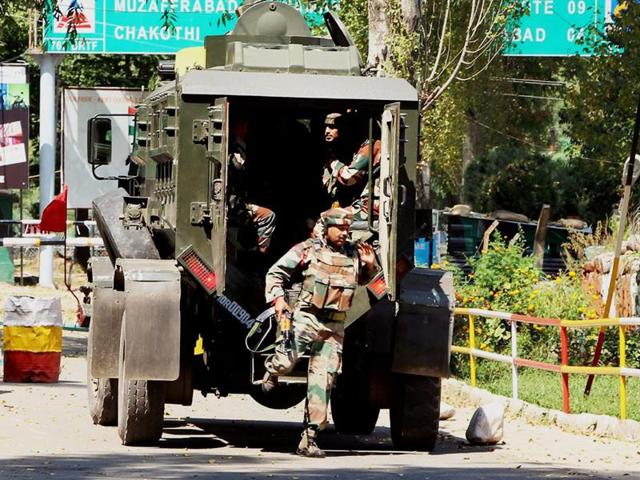 Updated on Sep 19, 2016 11:02 AM IST
The suicide attack on its base at Uri is easily the worst setback the Indian army has suffered in Kashmir in the past 26 years. It is not clear precisely who attacked the army base. An attack by home-grown terrorists cannot altogether be ruled out, but is highly unlikely for, since August 1999, all such attacks have come from Pakistani territory. The chosen, and politically far more effective, weapon of Kashmiri separatists has been stones. So assuming that these were Pakistanis, nurtured by the Lashkar-e-Taiba, and sent into Kashmir by the ISI, what should India's response be?
What it absolutely must not be is a punitive counterattack on Pakistan. For that will free Islamabad's hands to send huge numbers of terrorists into Kashmir. Pakistan knows that, given the conditions that prevail in Kashmir today, they would be welcomed as saviours, something that has not happened in the past. So if Modi and Rajnath Singh want another avalanche of terrorists to descend on Kashmir, like the one after Pakistan's defeat in the Kargil war which cost India an average of four jawans' lives every day for the next two years, they know exactly what they need to do.
What Rajnath Singh and the Prime Minister need to ask themselves is what Pakistan's objectives, in launching this attack now, might be and take the action that is needed to checkmate it. The obvious one is a desire to continue fuelling the curfew and lockdown conditions that have prevailed in Kashmir since the death of Burhan Wani, to make the ultimate, inevitable explosion more volcanic.
Read | Uri attack: 17 soldiers killed, army says Pakistan-based Jaish involved
The attack on Uri was too large and well planned to have been cobbled together in response to operation 'Calm Down', the directive given to the army to restore normality in the Valley within a week beginning last Sunday. But its timing could not have been more fortuitous for Pakistan because it came one day before the expiry of the week, at a time when the exceptionally severe curfew and information control imposed on the Valley during the operation had stretched nerves to the breaking point.
The relative success of the operation, however, had just begun to raise hopes among Kashmiris, and their well wishers, that a relaxation of curfew and controls would soon follow. That has now been dashed.
Delhi must stop letting Pakistan play upon its ignorance of Kashmiri aspirations like an inexpert violinist upon a second hand fiddle. Unlike Modi, Islamabad knows — in fact, it has known since the days of President Musharraf — that very few Kashmiris want Kashmir to go to Pakistan. This was confirmed by the meticulously constructed Chatham House (Royal Institute of International Affairs, London) survey of opinion in both parts of Kashmir in 2009, which found that even in Anantnag, Budgam, Srinagar and Baramulla districts—the hotbeds of separatism in the Valley — only 2 to 7 percent of the people wanted to go to Pakistan.
Read | What next? Here's how India can respond to the Uri terror attack
As a group of journalists and human rights activists, of whom I was one, found out during a visit to Kashmir last month, this proportion has not changed by much despite all that the people of the Valley have suffered. What has changed is the intensity with which the 75 to 95 percent who wanted independence then, want it now. To say that Kashmir is in the grip of a fever of revolt today would not be an overstatement.
However, except for teenagers who have not yet begun to think of their future, and the fringe of unemployed youth in their twenties who lead the revolt, almost no one wants to sever all relations with India. To them 'azadi' means political freedom without the sacrifice of Kashmir's huge and profitable economic integration with India. In short, what Kashmiris want is what Nobel Laureate Amartya Sen has written so eloquently about: it is not the negative concept of freedom from India but the positive concept of freedom, as the capacity to do things with India to improve their lives.
This duality has existed since Sheikh Abdullah was imprisoned in 1953, but has only grown stronger with the passing of the years. It gives the government, even now, a powerful yet simple way to end the 'intifada' in Kashmir. Modi has urged the Kashmiri opposition parties, and the separatists, to ask for anything within the framework of the Indian Constitution, and Rajnath Singh has gone even further. But no one is taking up their invitations to talk because no one in the Valley trusts any Indian government any longer not to renege upon its word.
Read | Uri attack may push Indo-Pak relations, already at their lowest, to a new low
The only way to bridge this trust deficit is to make a declaration that the government of India is willing to grant Kashmir full autonomy within the framework of the Instrument of Accession and the Delhi framework agreement of 1952 (which addressed their core need for economic integration) and is also willing to allow a newly elected government in Kashmir to decide which of the later 67 amendments to Kashmir's constitution that have deepened this integration, they wish to retain.
This will start a new political process that, if pursued in good faith will lead to peace in Kashmir and, possibly at a later date, with Pakistan as well.
(The writer is a senior journalist and columnist. Views expressed are personal)
Close Story