Uri attack may push Indo-Pak relations, already at their lowest, to a new low
The Uri attack may have somewhat similar consequences. It will push India-Pakistan relations, already at their lowest ebb in years, to a new low. And it may signal the resurgence of old tactics in Kashmir, at a time when unarmed protesters have convincingly seized the mantle of armed terrorists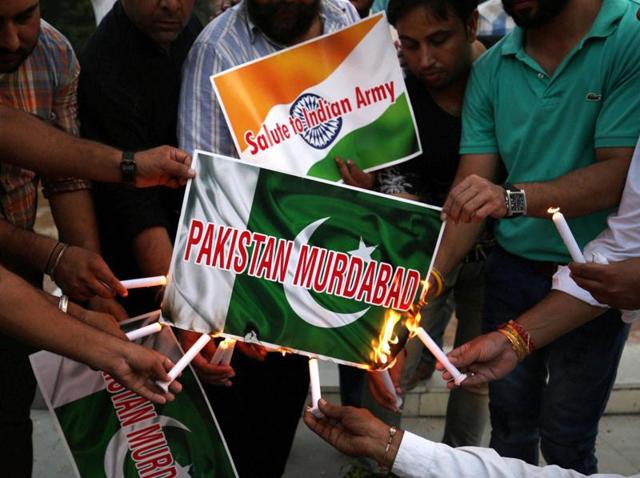 Updated on Sep 19, 2016 12:38 PM IST
Hindustan Times | By Shashank Joshi
The devastating attack in Uri carries shadows of the 2002 Kaluchak massacre, when three Lashkar-e-Taiba terrorists killed three army personnel, 18 members of their families, and ten other civilians in Jammu. That attack came months after the assault on Parliament in New Delhi, and nearly transformed a troop buildup – Operation Parakram – into a full-blown war between India and Pakistan.
This weekend's slaughter will also have serious consequences. It will strengthen the hand of those in the government, already on top, who believe that only intense, heightened pressure – diplomatic and perhaps otherwise – can force a change in Pakistan's behavior. It will push India-Pakistan relations, already at their lowest ebb in years, to its lowest point since Mumbai. And it may signal the resurgence of old tactics in Kashmir, at a time when unarmed protesters have convincingly seized the mantle of armed terrorists.
The past decade has seen major terrorist attacks across India, though mass casualties have proven far easier to inflict on soft civilian targets in cities rather than military forces in their bases. The Pathankot attack in January killed 7 security personnel, which was half the number killed in a market in the Assam town of Kokrajhar last month. This is one reason why Uri's seventeen casualties are so shocking. While there have been larger numbers killed in the post-Kaluchak era, including the death of nineteen Border Security Force personnel in an IED attack in Kashmir in May 2004, this is likely the deadliest attack on a facility.
Read | Civilians in Kashmir may bear the brunt of Uri army base attack
More broadly, India has grown accustomed to steadily declining violence, both in Jammu and Kashmir and in the rest of India as a whole. Last year, the country saw the fewest civilians killed in terrorism for well over two decades, and the second-fewest security personnel – both falls probably driven by trends within Kashmir itself.
Average civilian casualties in Kashmir fell 45% from the 1990s to the 2000s, and then by a further 95% from the 2000s to the 2010s. Fatalities amongst the security forces fell from an average of more than 300 a year in the 2000s, to under 50 since 2010 – excluding Uri itself.
In part, these trends are the result of tighter control over the Line of Control. Official statistics last year showed that local militants outnumbered non-Indian ones. According to the head of the Srinagar-based Chinar corps, cross-border infiltration was down to a "trickle".
Attacks in Gurdaspur last year and Pathankot in January pointed to weaknesses in border security, but the scale of the problem has significantly fallen. Large, anomalous attacks like Uri shatter this statistical calm.
The Pathankot attack offered a brief moment of hope that India and Pakistan might handle the fall-out of these incidents in mature, constructive ways. The National Security Advisors of both countries spoke to one another within hours of the attack. Indian officials held back from blaming Pakistan, while Islamabad quickly detained the chief of Jaish-e-Mohammed, Masood Azhar. Most remarkably of all, Pakistan was allowed limited access to the airbase itself. But the steady collapse in India-Pakistan relations in the months thereafter, marked by reciprocal sniping on Kashmir and Balochistan, has produced a completely different mood that prevails today.
"Pakistan is a terrorist state and it should be identified and isolated as such," tweeted home minister Rajnath Singh on Sunday. There will be no joint investigation team (JIT), no forbearance in public statements, and little faith in Nawaz Sharif. The spirit of Lahore was snuffed out long ago.
"Those behind this despicable attack will not go unpunished," promises Prime Minister Narendra Modi. Ram Madhav, the BJP's secretary general, suggests what this might mean in practice: "For one tooth, the complete jaw. Days of so-called strategic restraint are over".
This echoes previous allusions to retaliation-in-kind, made by NSA Ajit Doval, defence minister Manohar Parrikar, and many other would-be covert warriors. In concert with the government's new approach to Balochistan, there is every reason to believe that the Research & Analysis Wing (R&AW) will be given a freer hand to impose a cost on Pakistani terrorist groups, their patrons in the Pakistani intelligence services, and perhaps even on the Pakistani state more broadly.
Among the more publicly visible consequences will be a further hardening of the government's approach to Kashmir. As counter-terrorism operations widen, protests – already the worst in the valley since the 1990s – will intensify. Another will be a ratcheting up of the diplomatic pressure on Pakistan. Sushma Swaraj's speech for the UN General Assembly in New York on September 26 will go through a frenzy of editing in the coming days.
India also knows that the United States is, as always, desperate to avert any escalation across the LoC; New Delhi can use that to secure greater intelligence and diplomatic cooperation from Washington, which supplied key information about Pathankot. If JeM is found responsible once more, India will revive its abortive efforts to get China to agree to a terrorist designation for Masood Azhar.
Uri is not a turning point. There will be no airstrikes or mass mobilisation. But it is a stepping stone towards what will be a more violent, unpredictable, and tumultuous period in India-Pakistan relations.
(The writer is a senior research fellow at Royal United Services Institute. Views expressed are personal)
Close Story