Why India hockey coach Sjoerd Marijne feels playing with Pakistan isn't necessary
Hindustan Times, New Delhi |
Ajai Masand
Dec 12, 2017 04:43 PM IST
Sjoerd Marijne feels the biggest achievement from the Hockey World League Final 2017 is the confidence the Indian players have gained that they can beat any team in the world. He also said that for Asia to remain a force in international hockey, it's not necessary for India and Pakistan to play each other.
Sjoerd Marijne would have never thought in his wildest dreams that he would be in the hot seat, charting the future of the Indian men's hockey team. Until two-and-a-half months back, he was women's team chief coach, and this elevation would have caught him by surprise.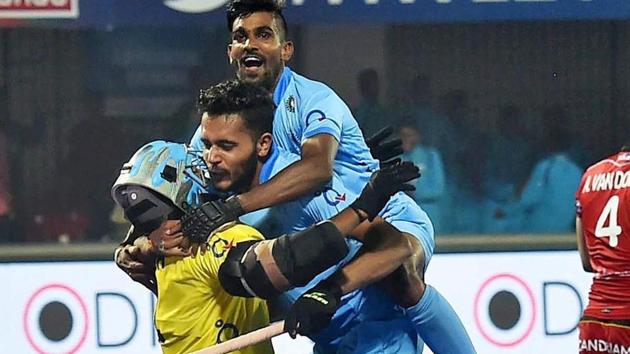 However, he has not only planned India's victory in the Asia Cup but also a bronze-medal finish in the Hockey World League Final in Bhubaneswar, no mean achievement given that the top seven teams in the world were competing for honours.
In a chat with Hindustan Times, the 43-year-old Dutch expert spoke about his plans for India and the role of seniors in the team.
Excerpts:
Q: Did you really expect a third-place finish in the HWL Final in such a strong field?
Yes, there were doubts. I didn't what to expect. It was very difficult because I had barely taken over (from Roelant Oltmans). We won the Asia Cup, but that was against teams ranked No 12 and above in the world and not against the Top 5 or 6. I was pretty curious what will happen. But we played tactical and mental games and I am happy we made it to the podium.
Q: India beat Germany, though the team was weakened by injuries and illness. How do you see it?
A: I am happy with that. I am a little disappointed with the semi-finals (loss to Argentina). The circumstances were really poor. No one could do anything because it was raining heavily. It was a difficult and a strange match (due to rain, India couldn't play their natural game). That was a little awkward. Then we beat Germany for bronze, which brought the trust and confidence of the boys back.
(Read | For India to become a sporting giant, stop this indifference towards athletes)
Q: Have the players have responded to your coaching style?
The feedback I am getting from them is that they have liked my style of coaching. My style is usually player-driven because, on the pitch they have to take all the important decisions. With 9,000 in the stadium, they can't hear my voice. So, taking their decisions, that's what they are learning. And my doors are open and they can always come to me.
Q: Had the weather been ideal, do you think India could have beaten Argentina?
The Argentine coach insisted on playing (on a soggy pitch) knowing that we wouldn't be able to play our natural, fast-paced game. That was a compliment for us. The head of the No 1 team in the world was afraid of our speed. Now I know Argentines are better when it rains so harsh (laughs). I am disappointed we couldn't play in good circumstances against them. I was confident of winning; it's a pity we lost.
Q: Could India have beaten Argentina on a perfect day?
Yes, we had a lot of confidence and the plan was ready and I was happy with the confidence of the players. After this tournament, no one in the team is afraid of any player of any country… that is a good thing.
Q. What does it take to beat the super teams of the world?
Self-belief, that's the first thing. Then it's consistency. See, the number of unforced errors Roger Federer makes is very low. So, the more unforced errors we make the more chances we give our opponents. Against England in the league phase, we were not consistent and lost. But statistically we did really well and created chances.
Q: How did you react to finishing at the bottom of the pool after the league phase?
I was not so disappointed. I had full faith in the team. On an average, I was giving a rating of 7 (out of 10) to the players. Some of the players were 10 out of 10. I knew if every player played with that consistency, we could beat any country. Against Belgium, we performed at the level for the entire match.
Q: Historically and legacy-wise we can't defend goals. We lead by two and concede three. How will you rectify that?
If you see the statistics, on an average teams were able to enter our circle no more than 16 times; that's a good number. In the pool match against Australia, they could enter only 10 times, which is a huge improvement.
Q: Oltmans had said when we were consistently beating Pakistan that it's not about beating them, world hockey is much bigger. Do you believe in that philosophy?
Yes, I think so. I just had two matches against Pakistan and I experienced for the first time in my life how it was. Players told me it was a normal match for them and that's the way to see it, but you (people in India and Pakistan) always see it as a special match.
Q: Have we seen the last of Sardar Singh?
No. We said before the tournament that I want to try out various combinations. In the Asia Cup, we saw Sardar with Harmanpreet Singh. Here, we wanted to see Rupinder with Harman. After the tournament, we will discuss what's the best combination.
Q: You are guarded when it comes to Sardar.
It's not about Sardar, it's about the whole team. I'm searching for the best team, a balance between young and old, experience, senior players, etc. In this tournament, I am proud to have the youngest team -- seven boys under 22; no team had that. We'll certainly build on that.
Q: How important is the Pro League. Has India made the right decision to not play in it, especially when they had the chance to play nine top nations?
Well, you play one match and that's it. Then, you have to leave. Then you travel a lot and have to adjust a lot only for one match. So, I think for us right now, it doesn't look good enough to play there.
Q: For Asia to remain a force in international hockey, should India and Pakistan play more often?
I don't know. I think this year we have played Malaysia a number of times, which is good. I don't think it's (playing Pakistan) necessary.