Astha Pahwa enters last eight of World Youth Boxing, Shashi Chopra in last 16
Updated on Nov 20, 2017 10:11 PM IST
Shashi Chopra defeated Uzbekistan's Durdonakhon Rakhmatova in he 57kg bout at the AIBA Women's Youth World Championships while Ashtha Pahwa defeated Melis Yonuzova of Bulgaria in 69kg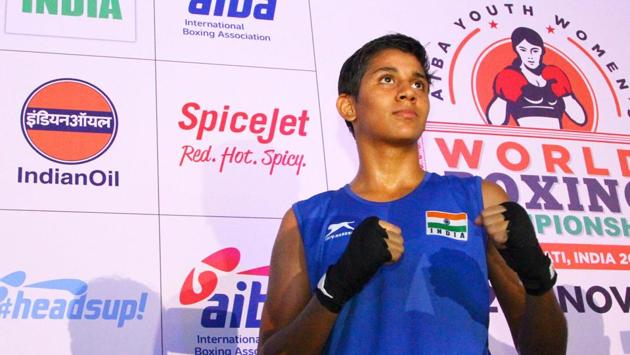 India's campaign was off to a reasonably good start as Ashtha Pahwa (69 kg) entered quarterfinals while Shashi Chopra (57 kg) made the last-16 stage after winning their respective opening bouts at the AIBA Women's Youth World Championships in Guwahati on Monday.
However host nation's Vanlalhriatpuii (60kg) bowed out losing her opening round bout.
READ | AIBA Women's Youth Boxing Championships off to colourful start
In her opening round contest which was also the pre-quarterfinal, Astha defeated Melis Yonuzova of Bulgaria.
Shashi defeated Uzbekistan's Durdonakhon Rakhmatova in a unanimous verdict, while Vanlalhriatpuii went down to South Korea's Im Aeji in a split verdict in her opening bout.
Shashi was in action in the first session and grabbed the early advantage by taking the lead in launching attacks. The following two rounds followed a similar script as Shashi got the judges' unanimous nod.
READ | World Youth Boxing Championship draws out, India assured of two medals
Shashi's put her Uzbek opponent on the backfoot using the double jab followed by a left-right-left combination of punches.
She managed to connect a powerful left hook on the right temple of her opponent that got Rakhmatova standing count, seconds before the bell.
"I am very happy with my first round victory. I was confident that I could win the bout if I stick to my gameplan and not allow my opponent to score points. I also kept my punches straight and struck effectively," Shashi said.
The gold-medallist from Balkan Youth International Championship, will next face the Chinese Taipei's Lin Li Wei- Yi, who got a first-round bye.
In the evening session, Vanlalhriatpuii, also a reigning national champion, was up against a quick-moving and aggressive Aeji.
The Korean broke through Vanlalhriatpuii's defence quite early and although the Indian fought back hard in the closing three minutes, the bout had tilted decidedly in Aeji's favour.
Aeji will next face Bulgaria's Mehmedova Aslahan Sezgin in her pre-quarterfinal bout.
Close Story
Personalise your news feed. Follow trending topics