Crossing 2700 Elo key to winning Wijk Aan Zee challenger chess title: Vidit Gujrathi
Grandmaster Vidit Gujrathi said reaching the Elo ratings milestone helped produce a consistent run, culminating in victory in the recent challenger chess event at Wijk Aan Zee, the Netherlands.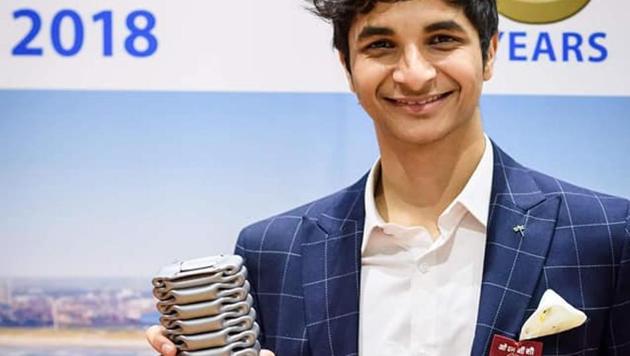 Published on Feb 05, 2018 05:04 PM IST
Indian Grandmaster Vidit Gujrathi's victory in the challengers section at Wijk Aan Zee, Netherlands, last month has helped him qualify for the prestigious masters event next year.
The 24-year-old was undefeated in the event, held alongside the masters event that featured world champion Magnus Carlsen and India's Viswanathan Anand. He finished with nine points from the 13 rounds.
"I do not play many open tournaments. I took some calculated risks and it paid off. Securing this title really means a lot to me," Gujrathi said.
In the Challengers section, Gujrathi was involved in a close fight with Ukranian GM Anton Korobov, the 2013 European Blitz champion. The Indian said victory over Russia's Olga Girya in the 12th round was decisive in winning the title. "The victory in the penultimate round gave me confidence that I could win the title. Korobov and I were involved in a close race and I was nervous," Gujrathi said.
Crossing 2700 key
Gujrathi's success in Wijk Aan Zee extends his fine run since 2017. The Nashik player became the fourth Indian GM to achieve 2700 ELO points. His crowning moment came when he held Magnus Carlsen to a draw in the Isle of Man tournament.
Going past the 2700-mark changed his mind set, Gujrathi said. "That was a massive boost. It somehow lifted the burden off my head and made me feel I belong on the big stage. My game became smooth after achieving this milestone. I achieved plenty of clarity in my thinking."
Karpov moment
During the tournament in Wijk Aan Zee, Gujrathi posted this message on his Facebook page, "When I was young, I learnt a lot from Anatoly Karpov's games. Little did I know that a few years later, he would be standing beside me."
Asked about the fan boy moment, Vidit said: "When we were doing the analysis, Karpov joined in. He remembered me and he was enthusiastic. Even now, his endgame positioning is phenomenal. If he comes back, I can imagine him making plenty of opponents nervous with his endgame," Gujrathi said.
Gujrathi's next assignment will be the Aeroflot Open in Moscow in February.
Close Story