Triple high for India in World Cup Finals: Manu, Elavenil, Divyansh claim top honours
The 17-year-old Bhaker shot 244.7 to claim the top prize in the prestigious season-ending tournament of International Shooting Sport Federation (ISSF).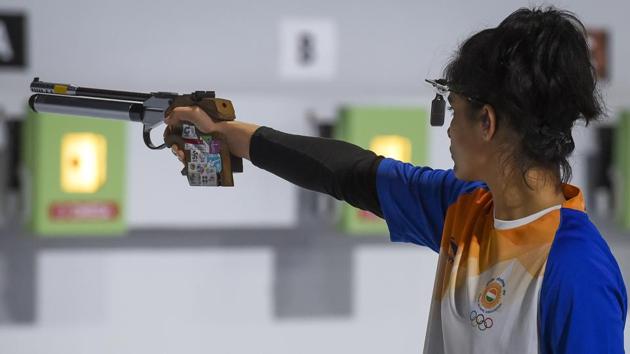 Updated on Nov 21, 2019 10:21 PM IST
Hindustan Times, New Delhi |
Avishek Roy
Manu Bhaker was inconsolable after she was knocked out of the 25m pistol final at the season's first ISSF World Cup here in February. She found a corner at the Karni Singh Shooting range and wept, oblivious to the surroundings. She had finished 5th in 25m pistol after qualifying at second place with a creditable score of 590. Two days later she failed to qualify for the 10m air pistol event. A lot was riding on Indian shooters to grab 2020 Tokyo Olympics quota places at familiar home environ. A day after the disappointment, Bhaker bounced back to win gold at the 10m mixed air pistol event with Saurabh Chaudhary.
Throughout the season she dealt with highs and lows in equal measure. At the ISSF Munich World Cup Bhaker was on track to win an Olympic quota with a podium finish in the 25m pistol but for a weapon malfunction in the middle of her match. A day later she came back to win a quota from the 10m air pistol event with a fourth-place finish.
All the while she competed at a different level in the mixed team events, the new Olympic discipline in shooting, where she and Chaudhary bagged gold in all four ISSF World Cups of the season. They will be looking to finish on a high at the ongoing season finale in Putian, China.
The journey has only shown the two different sides of the sport to the 17-year-old. On Thursday, at the ISSF World Cup Final, Bhaker came out on top of a quality field to win gold in 10m air pistol.
Bhaker came through a tough qualification squeezing herself in at the eighth spot with a score of 578. In the final she took the lead after the 11thshot and demolished the field, winning with a junior world record score of 244.7. She finished ahead of Serbian and two-time former world champion Zorana Arunovic (241.9) by a healthy margin of 2.8 points. Reigning Asian Games champion Wang Qian (221.8) of China finished third. Yashaswini Singh Deswal, who also qualified for the final, finished sixth.
"She has been learning to deal with different situations and shoot with a free mind. She is still a teenager," says Bhaker's father Ram Kishan Bhaker.
"The fact she was able to put back the weapon malfunction at Munich so quickly, come back and win an Olympic quota the next day shows how fast she is maturing."
Bhaker had a disappointing run at the Jakarta Asian Games too, after the high at Gold Coast Commonwealth Games. But she has not allowed the bad patches take a turn for the worse.
Bhaker, herself, admitted that she is getting used to disappointments. "I get over it quickly now. Before, I could not accept things very easily. Now I am much better," Bhaker had said after the Munich World Cup.
"The day my weapon malfunctioned, I was feeling very bad. But next day it was a fresh start. Everything was to start from the beginning. I told myself I know I shot well (in 25m pistol), everyone will know that it wasn't my fault. I gave my best. It's also about luck on that day," she added.
Winning a gold medal in her first appearance in World Cup Finals will go a long way in giving her confidence ahead of next year's Tokyo Olympics.
Elavenil, Panwar hit bullseye
Rifle shooters Elavenil Valarivan and Divyansh Panwar also won gold on a day of triple high for India. Elavenil, who had won gold in Rio World Cup, carried on her good streak and won the women's 10m air rifle with a score of 250.8 beating Taiwan's Lin Ying-Shin (250.7). Romania's Laura-Georgeta Coman came third with 229. Mehuli Ghosh also qualified for the final but finished sixth.
Panwar, 17, won gold in men's 10m air rifle with a score of 250.1. Hungary's Istvan Peni (250) and Slovakia's Patrik Jany (228.4) finished second and third respectively.
Panwar, who has already won a 2020 Tokyo Olympics quota with a silver in Beijing World Cup, shot 627.1 in the qualification.
In men's 10m air pistol event, Abhishek Verma and Saurabh Chaudhary qualified for the final but could not win a medal.
Close Story