Olympian Sushil Kumar asked to provide clear blueprint of project
Olympic medal winning wrestler Sushil Kumar has been asked to lay out the purpose before eight acres of public land, leased out to Sushil Kumar Foundation in 2013 can be handed over to him.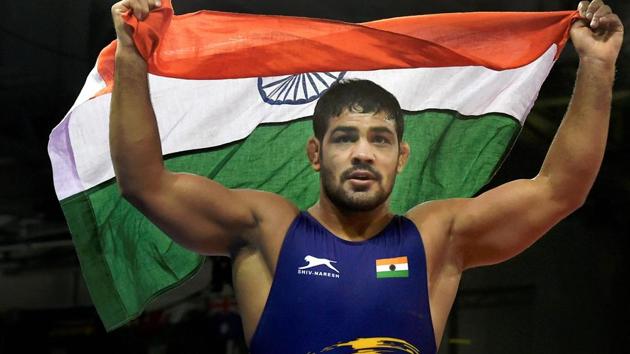 Updated on Apr 13, 2018 12:48 PM IST
The decision to lease eight acres of public land at Motilal Nehru School of Sports in Rai, Sonepat, to Olympic medal-winning wrestler Sushil Kumar for setting up a wrestling academy by the previous Congress government will be modified by the state government.
Though the Sushil Kumar Foundation has been given a letter of intent (LoI) for leasing of Rai Sports School land, the Olympian has been asked to give a clear blueprint of the project.
"The public land is being given to him for a pittance. Kumar will have to clearly lay out the purpose – setting up a wrestling academy – before the possession is handed over to him,'' sports department officials said.
The decision to lease out sports school land was taken in December 2013 during the Congress rule. However, the possession of the land could not be handed over to Kumar due to various issues such as selection of land chunk and passage to the proposed project.
New rules for land allotment
Meanwhile, the council of ministers in Haryana on Wednesday tweaked the policy for allotting land to medal winning sportspersons.
READ | Sushil Kumar decimates opponents to win gold in 2018 Commonwealth Games
As per the new policy approved by Manohar Lal Khattar Cabinet, those sportspersons who have taken the benefit of out-of-turn employment will not be eligible for allotment of land to set up sports academies.
The land will be provided to eligible sportsperson who wanted to open a sports academy in the discipline in which they won an Olympic medal. Only those sportspersons who have played for Haryana at the national level or have domicile status and have not represented any other state other than Haryana at national level will be eligible for land allotment.
Sushil Kumar would have been rendered ineligible for allotment of Rai land if the new policy was approved with retrospective effect. Kumar, a two-time Olympic medal winner, is a resident of Baprola in Delhi and a railway employee.
READ | Russia, India among nations to lose Olympic weightlifting spots in doping clampdown
Under the policy, land will be allotted subject to condition that there is no other world class sports academy in that sports discipline in the state. The land will be provided on long-term lease up to 10 acres, on actual need basis at notional rate. It will not be sub-leased and a committee under the chairpersonship of chief secretary and comprising of administrative secretaries of revenue, development and panchayats, urban local bodies and sports departments will decide terms and conditions of the lease.
BLURB Kumar would have been rendered ineligible for allotment of Rai land if govt's new policy was approved with retrospective effect; a two-time Olympic medal winner, Kumar is a resident of Baprola in Delhi and a railway employee
Close Story
Personalise your news feed. Follow trending topics